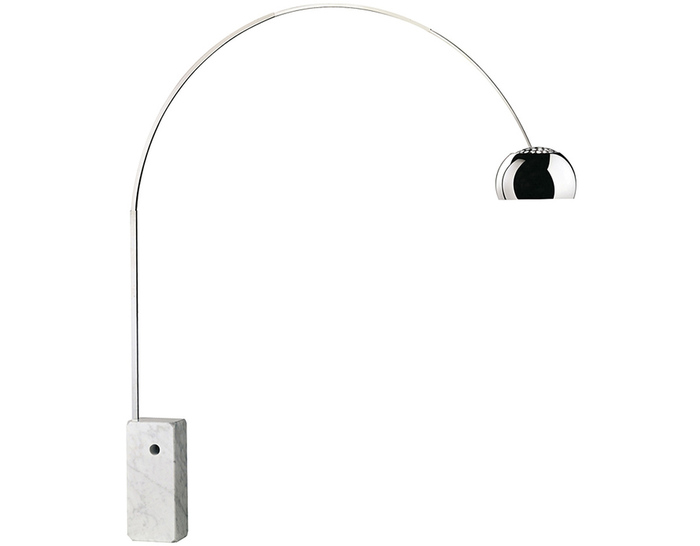 flos arco floor lamp
Design Achille & Pierre Giacomo Castiglioni, 1962
Marble, stainless steel, aluminum
Made in Italy by Flos
A street light inspired the iconic "Arco", a suspension lamp that sits on the floor on an extremely heavy marble base. The hole in the base is to insert a sturdy broomstick for carrying. Castiglioni once said of the base: "Our first idea was concrete, but we chose marble because it gave us the same weight in a smaller volume and a better finish for a lower cost. Nothing in Arco is decorative. Even the bevelled corners of the base are functional, they avoid sharp angles, which could be dangerous." Castiglioni designed Arco exclusively for flos and has been in continuous production since 1962.
Achille Castiglioni's imaginative forms and simplistic designs have made him one of the most influential figures in Italian design. His works are represented in museums all over the world. MoMA in New York features 14 of his works. He has also been the recipient of numerous awards, including 9 Compasso d'Oro.
To mark the fiftieth birthday of the Arco, which also coincides with the the company's fiftieth anniversary, FLOS pays tribute to its best-known lamp by launching a new version, the Arco LED, enhanced with the most advanced and high performance lighting technology.
Arco is a design landmark which continues to inspire and excite new generations.
95" h | 74.6"/76.6"/78.6" reach | base: 21.5" h | 9.4" d | shade: 11.5" dia. | 140.7 lbs. | 106" black cord
includes 1x100w A-21 medium base silvered bulb or 1 multichip LED (2700K, CRI 93, 2068 lumen, 28W - with dimmer)
$3,695.00 + free curbside delivery delivery in the continental US
(usually ships in 7-10 days)

Achille Castiglioni (1918 - 2002) was a renowned Italian industrial designer often inspired by everyday things. He made use of ordinary materials, preferring to use minimal materials to create a maximal effect. Born in Milan, Castiglioni studied architecture at the Politecnico di Milano University and set up a design office in 1944 with his brothers, Livio Castiglioni and Pier Giacomo Castiglioni. The brothers held the viewpoint that design must restructure an object's function, form, and production process. "Start from scratch. Stick to common sense. Know your goals and means," Castiglioni said. He was best known for his lamps, including Flos, Luminator, Bulb, Arco, and the Snoopy Lamp, inspired by the comics character.

The furniture manufacturers and entrepreneurs Dino Gavina and Cesare Cassina founded Flos which became one of the leading Italian light manufacturers in the second half of the 20th century. Its origins lay in the energy of Arturo Eisenkeil who, in 1959, was seeking to find applications for a new, plastic-based material that he was importing to Italy from the United States. Called cocoon™, it was a spray-on plastic coating that Gavina and Cassina recognized as having potential for lighting design. From the outset, Flos established its reputation through its innovative lighting designs from Achille Castiglioni. The collaboration with Achille Castiglioni continued through the '90s, and in 1992 he introduced the "family of products" concept to the market with the Brera series. At the same time, Flos continued to scout for emerging talent at an international level. The first Philippe Starck lamp was produced in 1998, followed by the Miss Sissi lamp, Romeo Moon, and Archimoon series.