emeco navy chair 1006
from Emeco -
Sale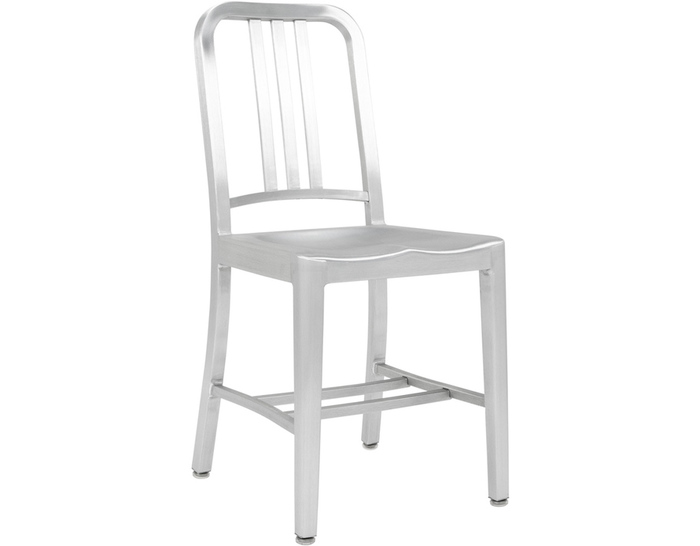 emeco navy chair 1006
Design Emeco, 1944
Recycled tempered aluminum, anodized
Made in USA by Emeco
The classic aluminum chair has been in continous production since the mid 1940's by Emeco. Based on a marriage of style and a time honored proprietary 77 step process, Emeco can be considered the guardian of a lost art...the manufacture of something enduring and endearing. Three times stronger than steel and amazingly light weight, these chairs have a life expectancy of at least 150 years. By buying a set today you will ensure that neither you, nor your great grand-children will have to worry about the "chair problem" ever again.
The Emeco navy chairs feature recycled aluminum in a brushed or hand-polished finish. The brushed version is suitable for outdoor use while the polished finish is only recommended for protected outdoor environments. The chairs come standard with soft plastic (TPU) glides but can also be specified with other options. Optional seat pads can be specified in Maharam Ledger vinyl or recycled PET felt post-consumer recycled content and a non-slip backing.
15.5" w | 19.5" d | 34" h | seat: 18" h | 7 lbs.
$582.25 + free shipping
(usually ships in 1-2 weeks. Please allow 8-10 weeks for polished)

Founded in 1944 by Wilton C. Dinges, the Electrical Machine and Equipment Company (Emeco) holds on tightly to their foundation of craftsmanship, utilitarian design, and history. Their origins lie in a collaboration with the aluminum giant Alcoa to develop an indestructible and useful chair for military use in Navy submarines and warships. Today Emeco is led by CEO Gregg Buchbinder who sums up their vision as design plus craftsmanship. Looking toward the future, Buchbinder has brought in Philippe Starck and Frank Gehry. With Starck, they developed the Hudson Chair. With Gehry, they created the acclaimed Superlight chair. In 2008, Emeco launched the Nine-O Collection by Ettore Sottsass and in the following year the Morgans chair by Andree Putman, designed for the restored Morgans Hotel.