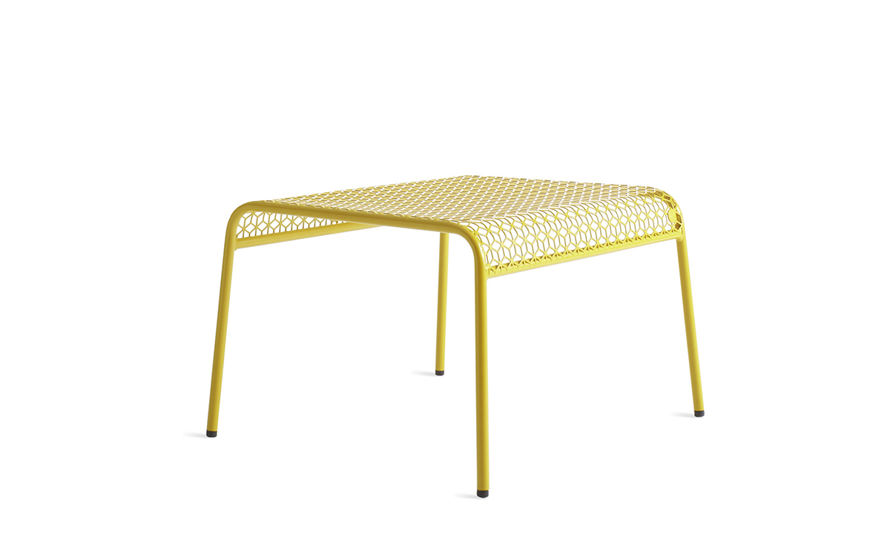 hot mesh ottoman
Design Blu Dot, 2016
Powder-coated steel, rubber feet
Made in Italy by Blu Dot
Put the lime in the coconut. Inspired by hand-woven rattan, Blu Dot created a bold graphic pattern in punched metal while a simple, stackable tubular frame maintains the clarity of form. The result is friendly on the eyes as it is on weary legs. Pair with the Hot Mesh Lounge Chair or use it solo. Stackable and suitable for use indoors or out. Also available as a café chair, barstool or counter stool.
hot mesh ottoman: 23" w | 14" h | 17" d
hot mesh lounge chair: 28" w | 26" h | 27" d | seat: 14" h
$195.00 + plus shipping (curbside delivery in the continental US)
(usually ships in 5-10 business days)

Blu Dot was formed in 1997 when John Christakos, Maurice Blanks, and Charlie Lazor commiserated about the lack of high-quality, affordable home furnishings that also appealed to their modernist aesthetics. They began as college friends trying to fill a void in the marketplace and have endured with highly-original furniture and products that join whimsy with practicality. The company thrives on collaboration and prides itself on having full control, taking care of each step in-house, from design, to manufacturing, to retail. Blu Dot is based in Minneapolis, and has flagship stores in LA and SoHo New York that display over 100 items from the collection.