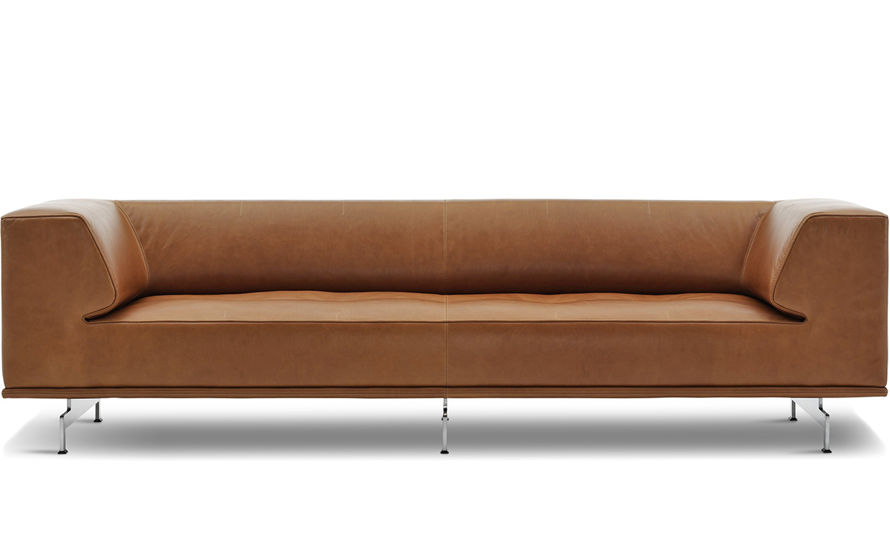 ej450 delphi sofa
Design Studio Hannes Wettstein, 2007
Cold cured foam, visko-elastic foam, rhombi-fill, brushed aluminum legs
Made in Denmark by Erik Jorgensen
Delphi is more than just a sofa. Delphi is a lifestyle and an aesthetic expression. Delphi is a dynamic approach to the sofa as a flexible and long-lasting piece of furniture. Delphi can be combined in countless ways with varying seat depths and back and armrests in two thicknesses. Delphi thus considers both body ergonomics and sensuous aesthetics, offering a sofa that can be combined and adapted to match the family's needs for years to come.
Stephan Hürlemann and Simon Husslein are among the most renowned designers in Switzerland. With a team of over ten designers and architects at their agency Studio Hannes Wettstein in Zürich they develop everyday objects, furniture and interior designs. Among their clients, alongside Erik Joergensen, are notable companies such as Braun, Foscarini, Molteni & C, Swiss Television and Ventura. Numerous works by Studio Hannes Wettstein have been recognized with awards.
Delphi features cold cured foam, "visko-elastic" foam and Rhombo-fill and covered in your choice of a variety of fabric or leather options. The legs are offered in brushed aluminum. Pictured online is the EJ450-E12 Delphi sofa. Delphi's flexible modular seating components also allow an endless number of configurations. Please call the hive showroom with any questions: 1-866-663-4483.
ej450-e12: 26" h | 33.5" d | 128" w | seat: 14.6" h
$10,180.00 + free shipping
(please allow approximately 8-12 weeks for your product to be created and shipped)

The Erik Jorgensen story begins in the town of Svendborg on the southern coast of the Danish island of Funen. Erik Jorgensen delivers furniture to countries all over the world, and the brand is associated with a sound aesthetic that is more than a passing fad. An aesthetic that rests on tradition and craftsmanship, but which is also nurtured by innovative furniture designs by both young and more established designers.