hans wegner ej101 queen chair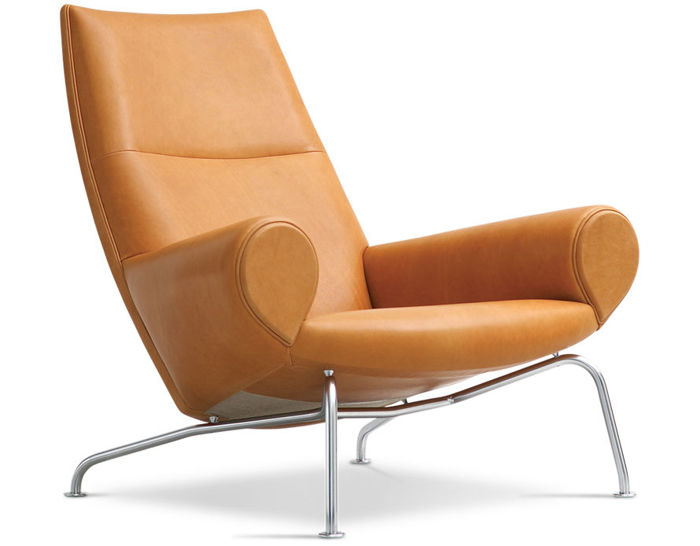 hans wegner ej101 queen chair
Design Hans Wegner, 1960
Molded polyurethane foam, wood, brushed chromed steel
Made in Denmark by Erik Jorgensen
"A chair is to have no backside. It should be beautiful from all sides and angles." -Hans J. Wegner
As Hans. J. Wegner's feminine counterpart to the Ox Chair, Queen manages to stand up as an equal match to the potent expression of that masculine icon. Wegner created Queen already in the 1960s, but the chair has never been launched before. Queen stands out with its long majestic back and neck support and its sublime seating comfort. Queen's elite design aesthetics, and its monumental appearance gives the Ox Chair a run for its money. Equal opportunities at last!
Hans J Wegner trained as a cabinet-maker before attending the Copenhagen School of Arts and Crafts, where he later lectured from 1946 to 1953. From 1938 to 1942, he worked as a furniture designer in Arne Jacobsen and Erik Moller´s architectural practice. In 1943, he set up his own office in Gentofte and collaborated with Borge Mogensen in the design of an apartment shown at the 1946 Cabinetmakers´ Exhibition in Copenhagen. Throughout his long career, he has designed furniture extensively for Johannes Hansen and Fritz Hansen. The Royal Society of Arts, London made him an 'Honorary Royal Designers for Industry' in 1959.
Queen Chair features molded polyurethane foam with brushed chromed steel legs. The covers are fixed with piping at the arm and backrest. The chair can also be specified with neck pillow in leather, contrast piping and leather arm pads. Optional EJ 100-f ottoman can be added to complete the lounge experience. Please call the hive showroom with any questions: 1-866-663-4483.
35.4" h | 39" d | 36.2" w | seat: 14.2" h
$7,860.00 + free shipping
(please allow approximately 8-12 weeks for your chair to be created and shipped)

Hans Jørgensen Wegner's (1914 - 2007) high-quality and thoughtful work contributed to the international popularity of mid-century Danish design. His style is often described as Organic Functionality, a modernist school with emphasis on functionality, arising primarily in Scandinavian countries. In his lifetime, he designed over 500 different chairs, over 100 of which were put into mass production, with many recognizable icons among them. Born to cobbler Peter M. Wegner, he worked as a child apprentice to Master cabinetmaker H. F. Stahlberg. With an affinity for wood, he attended the Danish School of Arts and Crafts and the Architectural Academy in Copenhagen. In 1936, he began studies at what is now The Danish Design School, with O. Mølgaard Nielsen as teacher.

The Erik Jorgensen story begins in the town of Svendborg on the southern coast of the Danish island of Funen. Erik Jorgensen delivers furniture to countries all over the world, and the brand is associated with a sound aesthetic that is more than a passing fad. An aesthetic that rests on tradition and craftsmanship, but which is also nurtured by innovative furniture designs by both young and more established designers.
hans wegner ej101 queen chair