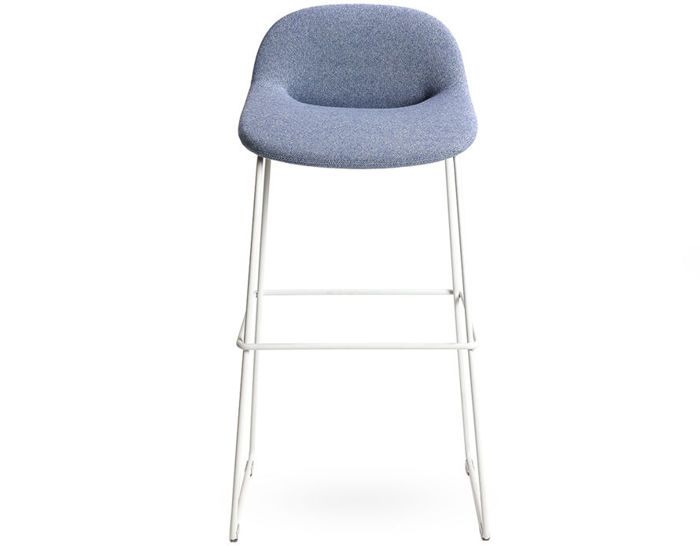 beso metal leg stool
Design Khodi Feiz, 2015
Upholstery, powder-coat steel base
Made in The Netherlands by Artifort
"In a way, I like to see Artifort not as a company in the business of making furniture, but in the business of making history." -Khodi Feiz
Beso, Spanish for 'kiss', is an affordable and highly versatile chair collection created by Dutch designer Khodi Feiz. The Beso collection includes a chair, an armchair and a barstool. We particularly like the juxtaposition between powerful and simplistic in the Beso design. In terms of shape and construction, the Beso allows for long comfortable dinners with friends and family, without the need to take a break or stretch your legs.
Khodi Feiz was born in Iran. He graduated from Syracuse University in Industrial Design. After working for Texas Instruments Design Center and later joining Philips Design in the Netherlands, he founded feiz design studio with graphic designer Anneko Feiz - van Dorssen. They specialize in a variety of design fields. Their work has received numerous awards and has been featured in exhibitions and publications worldwide.
Beso stool is offered in both counter and bar height. It is available in a wide range of upholstery and base options, which makes it the perfect addition to any interior.
beso metal leg low height stool: 18.1" d | 31.5" h | 18.9" w | seat: 24" h
beso metal leg medium height stool: 18.1" d | 35.4" h | 18.9" w | seat: 27.9" h
beso metal leg high height stool: 18.1" d | 39.4" h | 20.1" w | seat: 31.9" h
$847.00 + free shipping
(please allow 12-14 weeks for this item to be created, shipped and delivered)

The foundations of Artifort were laid by Jules Wagemans. In 1890, he set up business as an upholsterer in Maastricht. His son, Henricus Wagemans, expanded the company into a furniture factory, which had a showroom in Amsterdam by the end of the 1930's and was already well known nationally. The economic recession of the nineteen thirties forced H. Wagemans & Van Tuinen, as the furniture company was then known, to create a distinctive profile. The emphasis came to lie on functionality, comfort, and quality combined with aesthetically pleasing design and an innovative use of materials. The new brand name became Artifort, derived from the Latin word 'ars' meaning 'art or knowledge', and 'fortis' meaning "strong or powerful."