regeneration high task chair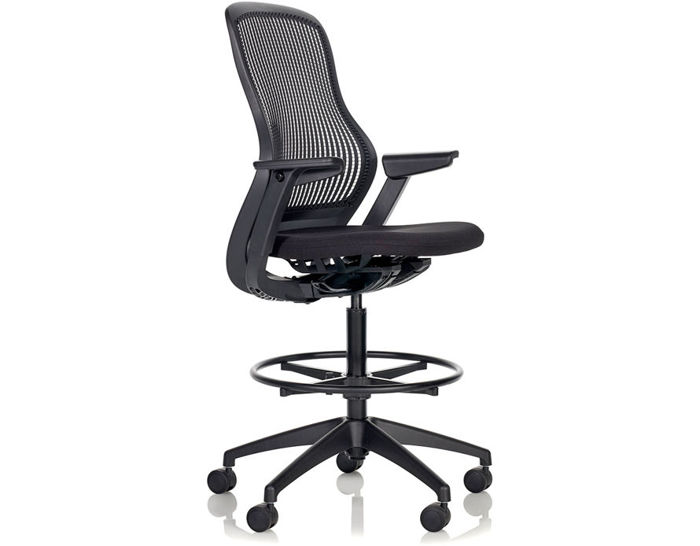 regeneration high task chair
Design Formway, 2012
dark finish frame, plastic or aluminum base, flex back net
Made in USA by Knoll
Innovative in its simplicity, the Regeneration high task chair minimizes materials and components. The straightforward design leverages flexible and durable materials that respond to your movements, providing comfort and ergonomic support throughout the day without interrupting your work flow.
Regeneration high task chairs feature:
*Slim profile back with contoured frame - High performance elastomer Flex Back Net with integral lumbar support. Optional adjustable lumbar support available
*Designed for 270 degrees of sitting - Flex Seat with three sides of seat edge flex and seat depth adjustment. Set-back arms for leg clearance and contoured arm pads for continuous lumbar support when side sitting
*Responsive performance - Weight compensated Dynamic Suspension control with a smooth, synchronized recline and four independent flexors that respond to multidirectional movement. Recline resistance feature for greater upright support
*Adjustable foot ring ensures proper posture for every user
*High performance arms are adjustable in height and the free float arm pads easily move in width and depth and pivot
armless: 26" w | 24.6" d | 43.5"-52.3" h | seat: 22"-30.8" h | base: 26" dia.
with arms: 28.5"-29" w | 24.6" d | 43.5"-52.3" h | seat: 22"-30.8" h | base: 26" dia.
arms: 28.3"-40.9" h (height adjustable arms) | 27.9"-40.7" h (high perf. arms) | add .04" for aluminum base
$738.00 + free shipping
(please allow 4-6 weeks for this special chair to be created and shipped to your location)

Hans Knoll, the son of a pioneer German furniture manufacturer, founded the Knoll company in New York City in 1938, one year after immigrating from Germany. He hired Florence Schust, a Cranbrook graduate who had worked for Gropius and Breuer, and the two were married in 1946. The next year, they opened a textiles division and showroom that was flanked with some of the worlds leading designers. Knoll would triumph thanks to impressive international contacts, gaining exclusive rights to the works of Ludwig Mies van der Rohe and producing them to their original specifications. This included the 1929 Barcelona Chair. They also commissioned Eero Saarinen to design the now iconic Tulip chair, and hold the rights to Marcel Breuer's seminal Wassily Chair. Artists such as Harry Bertoia, Jens Risom, and Isamu Noguchi would also collaborate with Knoll.
regeneration high task chair