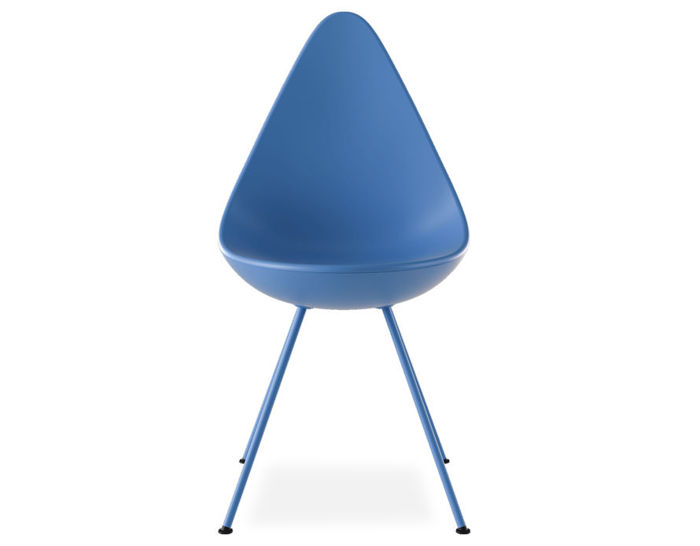 drop chair plastic
Design Arne Jacobsen, 1958
Plastic shell, steel tube
Made by Fritz Hansen
The Drop™ chair was designed by Arne Jacobsen in 1958 as part of his masterpiece, the legendary Radisson Blu Royal Hotel in Copenhagen. The Drop was originally produced along with the Swan™ and the Egg™ but in a very limited number exclusively for the hotel. After more than 50 years in hibernation, the Drop chair is now relaunched. It is a small chair with a big personality and it is as fresh and vibrant as a new design but with a rare heritage. The design of the back combines a warm embrace with freedom of movement, resulting in a surprising level of comfort.
Arne Jacobsen was very productive both as an architect and as a designer. His cooperation with Fritz Hansen dates back to 1934. The Ant and Series 7 chairs, produced in 1952, propelled both Jacobsen and Fritz Hansen's names into furniture history. At the end of the 50's Arne Jacobsen designed the Royal Hotel in Copenhagen, which introduced the Egg, the Swan, the Swan sofa and Series 3300 to the design world. Arne Jacobsen was and is an admired and outstanding designer. His furniture and other design work have become a national and international heritage.
The Drop plastic chair features a four-leg steel tube base either chromed or powder-coated to match shell. The plastic shell is offered in a range of colors. The Drop chair is also available in a fully upholstered version.
17.9" w | 21.5" d | 34.8" h | seat: 18.1" h
$440.00 + free shipping
(Black, white & nine grey shell with chrome base usually ships in 5-7 business days. Otherwise please allow 8-12 weeks for this chair to be created & shipped to your location)

Danish architect and designer Arne Emil Jacobsen (1902 – 1971) is remembered for his contribution to architectural Functionalism as well as for the worldwide success he enjoyed with simple but effective chair designs. After a spell as an apprentice mason, Jacobsen was admitted to the Architecture School at the Royal Danish Academy of Fine Arts, where from 1924 to 1927 he studied under Kay Fisker and Kaj Gottlob, both leading architects and designers. After completing architecture school, he first worked at city architect Poul Holsoe's architectural practice. In 1929, in collaboration with Flemming Lassen, he won a Danish Architect's Association competition for designing the "House of the Future" which was built full scale at the subsequent exhibition and helped Jacobsen be recognized as an ultra-modern architect. Later, the Ant and Series 7 chairs, produced in 1952 as a collaboration with Fritz Hansen, propelled both names into furniture history.

Fritz Hansen was established in 1872 by the visionary cabinetmaker of the same name. Since then, Fritz Hansen has become a natural part of both Danish and international design history. Today, it is an exclusive and international design brand. The history of Fritz Hansen is characterized by stupendous craftsmanship, unique design and an inherent sense of premium quality. Leading architects and furniture designers from all over the world have regularly contributed to the collection with beautifully shaped and functional furniture that seamlessly meet through the use of innovative techniques and new materials. Arne Jacobsen, poul kjaerholm, Piero Lissoni, Kasper Salto and Morten Voss - the stellar string of designers is long and the list of furniture of classic and iconic fame is even longer.