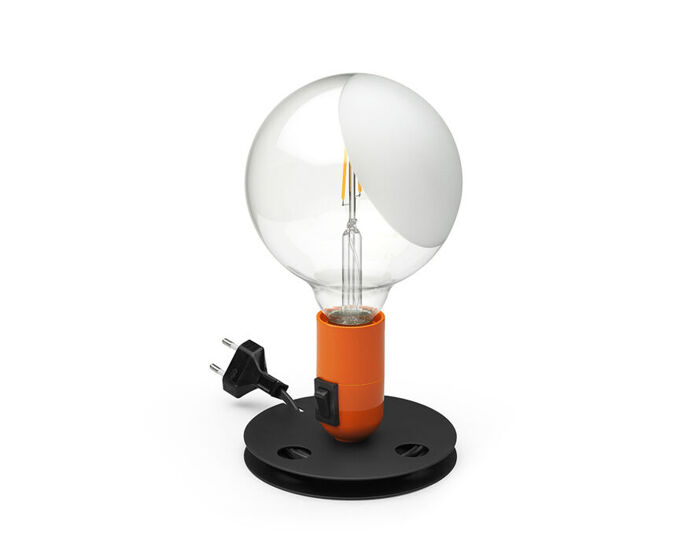 lampadina led table lamp
Design Achille Castiglioni, 1972
Aluminum base, bakelite, sandblasted bulb
Made in Italy by Flos
Artist Achille Castiglioni had a knack for offering a new perspective on the most humble of objects. Here, the result feels especially "meta" as he plays with the concept of light through a recreation of a light bulb.
Simple, functional and very decorative, the Lampadina or 'bulb' is partly sandblasted to diffuse light and mounted on a tape reel style base which houses the excess power cord. On/off switch on lamp holder.
Achille Castiglioni's imaginative forms and simplistic designs have made him one of the most influential figures in Italian design. His works are represented in museums all over the world. MoMA in New York features 14 of his works. He has also been the recipient of numerous awards, including 9 Compasso d'Oro.
The LED bulb has replaced the incandescent version, outfitting this classic lamp with the latest technology - making it more energy efficient and increasing the bulb's lifespan.
9.44" h | base: 4.92" dia. | .66 lbs. | 90" black cord
includes 1x2W medium G40, 2600K LED bulb
This product will ship with a US plug
$195.00 + free curbside delivery delivery in the continental US
(usually ships in 7-10 days)

Achille Castiglioni (1918 - 2002) was a renowned Italian industrial designer often inspired by everyday things. He made use of ordinary materials, preferring to use minimal materials to create a maximal effect. Born in Milan, Castiglioni studied architecture at the Politecnico di Milano University and set up a design office in 1944 with his brothers, Livio Castiglioni and Pier Giacomo Castiglioni. The brothers held the viewpoint that design must restructure an object's function, form, and production process. "Start from scratch. Stick to common sense. Know your goals and means," Castiglioni said. He was best known for his lamps, including Flos, Luminator, Bulb, Arco, and the Snoopy Lamp, inspired by the comics character.

The furniture manufacturers and entrepreneurs Dino Gavina and Cesare Cassina founded Flos which became one of the leading Italian light manufacturers in the second half of the 20th century. Its origins lay in the energy of Arturo Eisenkeil who, in 1959, was seeking to find applications for a new, plastic-based material that he was importing to Italy from the United States. Called cocoon™, it was a spray-on plastic coating that Gavina and Cassina recognized as having potential for lighting design. From the outset, Flos established its reputation through its innovative lighting designs from Achille Castiglioni. The collaboration with Achille Castiglioni continued through the '90s, and in 1992 he introduced the "family of products" concept to the market with the Brera series. At the same time, Flos continued to scout for emerging talent at an international level. The first Philippe Starck lamp was produced in 1998, followed by the Miss Sissi lamp, Romeo Moon, and Archimoon series.