eames® upholstered armchair with wire base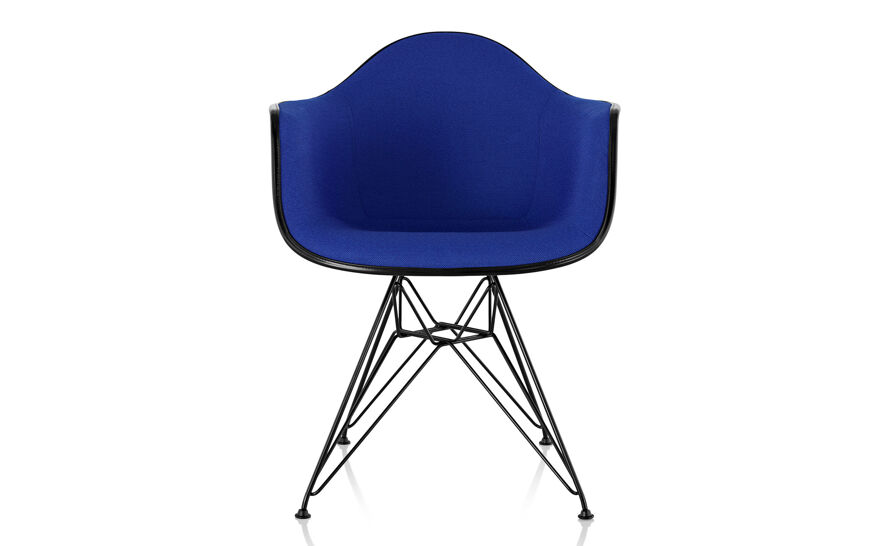 eames® upholstered armchair with wire base
Design Charles & Ray Eames, 1948
Molded fiberglass or plastic shell, metal frame, upholstered
Made by Herman Miller
The Eames molded chair in both arm and side chair formats in fiberglass or plastic can be configured with a choice of wire, dowel leg, stacking, rocker, and 4-leg bases. An array of trim, finely tailored Hopsak fabrics designed by Alexander Girard, Herman Miller's Textile Director from 1952 to 1973, round out the collection of shell customization options, fully restoring the integrity of the original 1953 shell chair offerings. All chairs can be recycled through the Herman Miller Take Back Program.
With a grand sense of adventure, Charles and Ray Eames turned their curiosity and boundless enthusiasm into creations that established them as a truly great husband-and-wife design team. Their unique synergy led to a whole new look in furniture. Lean and modern. Playful and functional. Sleek, sophisticated, and beautifully simple. That was and is the "Eames look."
With the molded plastic, fiberglass, and wood shell chairs -as well as the wire chair- the Eames' have created a universal response to what everyone wants from a chair: a simple, gracious form that fits any body and every place.
plastic shell: 25.25" w | 24" d | 31.5" h | seat: 17.875" h
fiberglass shell: 25.25" w | 24.5" d | 31.875" h | seat: 17.625" h
$725.00 + free shipping
(plastic chairs usually ship in 25-45 business days. Please allow 30-45 business days for fiberglass versions)

Husband and wife team Charles (1907-1978) and Ray (1912-1988) Eames played a major role in the world of modern architecture and furniture, as well as working in industrial and graphic design, fine art, and film. Charles completed two years of study at Washington University in St. Louis. With his design and life partner Ray, he designed prize-winning furniture that expanded upon the wood molding techniques of Alvar Aalto. Ray-Bernice Alexandra Kaiser Eames began as an abstract expressionist painter, having graduated from Bennett Women's College in Millbrook, NY and later studying under Hans Hoffman while living in New York City. She co-founded the American Abstract Artists and has a painting in the Whitney museum's permanent collection.

Herman Miller was a West Michigan businessman who helped his son-in-law, D.J. De Pree, buy the Michigan Star Furniture Company in 1923. De Pree had been working at the company, which opened in 1905, since he was hired in 1909 as a clerk. De Pree knew his father-in-law was a man of integrity, so he decided to rename the company after him. By the middle of the 20th century, the name Herman Miller had become synonymous with modern furniture. Working with legendary designers George Nelson and Charles and Ray Eames, the company produced pieces that would become classics of industrial design.
eames® upholstered armchair with wire base