parentesi lighting system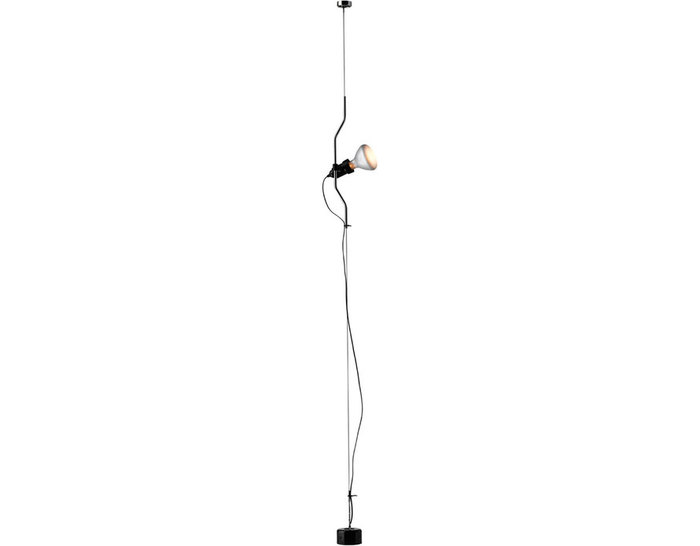 parentesi lighting system
Design Achille Castiglioni & Pio Manzu, 1971
Steel cable, metal elastomer
Made in Italy by Flos
A steel cord hangs from a small ceiling mount, weighted at the bottom providing the necessary tension to hold the lamp in place. The rubber, lamp housing is suspended on the cord by a curved-metal, tubular bracket, the "parenthesis". Full adjustability and swivel control. Plugs into any wall outlet. Available in various finish options. Optional brackets can also be added, please call the hive showroom to specify.
Intelligent and minimalist in design, the Parentesi has been in production since the 1970's and has been placed in the permanent collection at the Museum Of Modern Art in New York. Castiglioni's imaginative forms and simplistic designs have made him one of the most influential figures in Italian design.
157.4" h max | base: 4.3" dia | 8 lbs. | 157" black cord | UL listed
requires 1x120W BR-40 medium base reflector flood bulb
bulb & dimmer are not included
$505.00 + free curbside delivery delivery in the continental US
(usually ships in 7-10 days)

Achille Castiglioni (1918 - 2002) was a renowned Italian industrial designer often inspired by everyday things. He made use of ordinary materials, preferring to use minimal materials to create a maximal effect. Born in Milan, Castiglioni studied architecture at the Politecnico di Milano University and set up a design office in 1944 with his brothers, Livio Castiglioni and Pier Giacomo Castiglioni. The brothers held the viewpoint that design must restructure an object's function, form, and production process. "Start from scratch. Stick to common sense. Know your goals and means," Castiglioni said. He was best known for his lamps, including Flos, Luminator, Bulb, Arco, and the Snoopy Lamp, inspired by the comics character.

The furniture manufacturers and entrepreneurs Dino Gavina and Cesare Cassina founded Flos which became one of the leading Italian light manufacturers in the second half of the 20th century. Its origins lay in the energy of Arturo Eisenkeil who, in 1959, was seeking to find applications for a new, plastic-based material that he was importing to Italy from the United States. Called cocoon™, it was a spray-on plastic coating that Gavina and Cassina recognized as having potential for lighting design. From the outset, Flos established its reputation through its innovative lighting designs from Achille Castiglioni. The collaboration with Achille Castiglioni continued through the '90s, and in 1992 he introduced the "family of products" concept to the market with the Brera series. At the same time, Flos continued to scout for emerging talent at an international level. The first Philippe Starck lamp was produced in 1998, followed by the Miss Sissi lamp, Romeo Moon, and Archimoon series.
parentesi lighting system