magis steelwood round table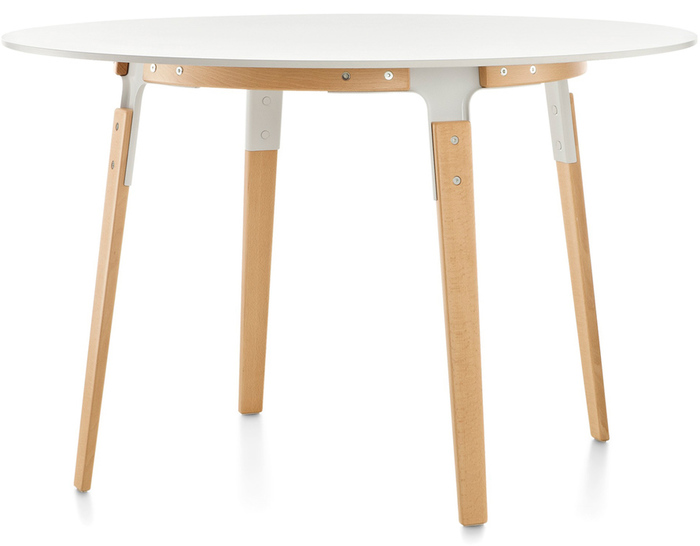 magis steelwood round table
Design Ronan & Erwan Bouroullec, 2008
Wood, HPL laminate, steel plate
Made in Italy by Magis
Steelwood is a radical assemblage of two traditional materials, forming a simple and comfortable table. Instead of making the wood look like steel or the steel look like wood, the Steelwood table embraces both. It is what it is-strong, warm, and unconventionally handsome. Its silhouette and curvature, which is achieved through an elaborate stamping process, makes it an easy table, adaptable to any place.
The two brothers, Ronan and Erwan, have been working together since 1999. Their collaboration is a constant dialogue, nourished by their single identities and strived towards a common goal. Today, the Bouroullec brothers work with numerous manufacturers such as Vitra, Cappellini, Issey Miyake, Magis, Ligne Roset, Habitat and the Kréo Gallery. They were named "Creator of the Year" in 2002, elected "designer of the year" in 2003 and have won multiple other awards. Their creations have been exhibited in many collective or solo exhibitions and are part of some permanent museum collections around the world.
Steelwood table is available in various sizes and your choice of finish options. Also available are Steelwood chair & stool.
steelwood table round: 47" dia. | 29" h
ships ready to assemble
$1,779.00 + free shipping
(Please allow 12-14 weeks for delivery)

Ronan & Erwan Bouroullec (b. 1971 and 1976) are a team of two brothers from the Brittany region in Northwest France. They began working together in 1999 and maintain a constant collaborative dialogue that incorporates each personality, and strikes a balance within their mutual quest for diligence and fineness. The brothers work with numerous manufacturers, such as Vitra and Cappellini. Their partnership with Vitra in 2002 has brought about perhaps their most prolific line of work, including the Joyn office system, and notable pieces like the Algues, the Alcove Sofa, the Worknest, the Slow Chair, the Vegetal and L'Oiseau. The brothers Bouroullec continue their vegetation-inspired work of natural and organic shapes and are recognized with various awards, in permanent collections, and in exhibitions all over the world.

The Magis company was founded in 1976 and had their first success in 1984 with Stepladder that was influential and crossed over into the designer furniture market from the hardware stores. They had two more huge successes in 1994 with Jasper Morrisons Bottleand the Lyra stool from the Italia Group, their bestseller. Two years later, the Bombo stool designed by Stefano Giovannoni would gain enormous success and cultivate an imitable style. Once the company gained momentum, they never slowed and would go on to produce Jasper Morrisons technologically advanced Air-Chair Michael Youngs Dog House Konstantin Grcics Chair One the Me Too line of childrens objects and furniture, and the Striped family from the Bouroullec brothers.
magis steelwood round table