ole wanscher ow149 colonial chair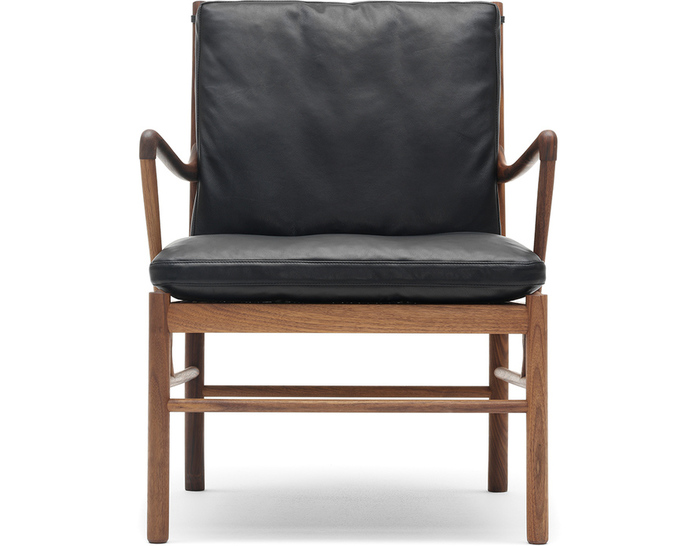 ole wanscher ow149 colonial chair
Design Ole Wanscher, 1949
Solid wood, molded cold foam, down, upholstery
Made in Denmark by Carl Hansen & Son
Ole Wanscher designed the Colonial Chair in 1949 but it wasn't until the mid 1950's that the chair was put in to production by the Danish cabinetmaker, PJ Furniture. The name of the chair, "Colonial", relates to Wanschers fascination with 1700-century English furniture design. The Colonial Chair is by far Ole Wanschers most known piece of furniture.
OW149 Colonial chair is a beautiful, well crafted and stable chair with a simple and refined expression. The slender easily-swung armrests rise to an elegant point before descending straight down to the floor. Despite the chair's slim and elegant dimensions, the chair is very stable. It is ideal in rooms where flexibility and lightness is desired. It has an elegant and timeless expression with its visible solid wood frame and softly rounded cushions providing great comfort.
The seat is made of hand-woven cane. The cushions consist of cold foam and down and can be upholstered in a variety of fabric or leather options. The cushions are turnable in fabric but not in leather.
OW149: 33.5" h | 26.8" d | 25.6" w | seat: 18.1" h | arms: 24.5" h
$3,485.00 + free shipping
(Quick-ship options usually ship in 2-4 weeks. Otherwise, please allow 8-12 weeks for custom configurations to be created, shipped and delivered)

A workshop in Odense, Denmark in 1908, was the birthplace of the Carl Hansen company. With a fast reputation for quality work, Carl Hansen confidently took on large projects like dining room sets and bedroom suites. However, Hansen eventually learned to capitalize on scaled-back versions of his popular sellers, realizing that their strongest asset was its hand craftsmanship and rationality. Carl Hansen invited Hans Wegner to create designs in 1949, launching a mutually beneficial relationship bringing success to the company and exposure to the young Wegner. Wegner was still relatively unknown, but soon gained wide acclaim that continues to today.
ole wanscher ow149 colonial chair