george nelson tripod desk clock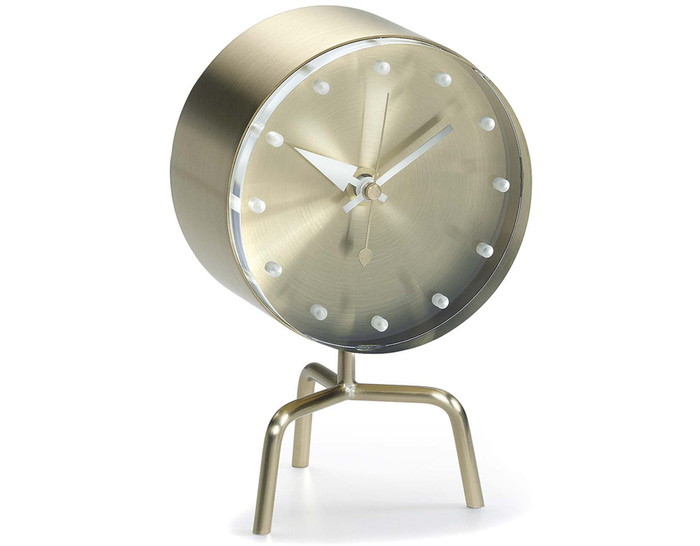 george nelson tripod desk clock
Design George Nelson, 1947
Brass, acrylic glass
Made in Poland by Vitra
The Nelson clocks were first born from a festive evening of collaboration.... George Nelson recalls: 'And there was one night when the ball clock got developed... Noguchi came by, and Bucky Fuller came by... we started making doodles. Then Bucky sort of brushed Noguchi aside. He said, 'This is a good way to do a clock,' and he made some utterly absurd thing. Everybody was taking a crack at it, pushing each other aside and making scribbles.... and the next morning there was this roll of drafting paper and somewhere in this roll there was the ball clock." These clocks are produced from the original design documents from the Nelson archive with the blessings of the George Nelson estate.
6.5" h | 4.3" w | 3.3" d | Battery included
$635.00 + free shipping
(usually ships in 10-12 weeks)

George Nelson (1908–1986) was an American industrial designer, and one of the founders of American Modernism. While Director of Design for the Herman Miller furniture company, both Nelson, and his design studio, George Nelson Associates, Inc., designed much of the 20th century's most iconic modernist furniture. George Nelson attended Yale University, not originally intending to become an architect. He happened upon the architecture school while ducking into the building to get out of the rain, and was impressed by an exhibition inside. He graduated with a degree in architecture in 1928. During his final year at Yale, Nelson was hired by the architecture firm Adams and Prentice as a drafter.

Vitra is a Swiss company dedicated to improving the quality of homes, offices and public spaces through the power of design. Following in the tradition of Charles & Ray Eames, who have influenced Vitra's approach to sustainability in many ways, product longevity is central to the company's contribution to sustainable development; short-lived styling is avoided at all costs. This can be seen most clearly in the classical pieces of furniture that have been used for decades, had several owners and have then even ended up as a part of a collection.
george nelson tripod desk clock