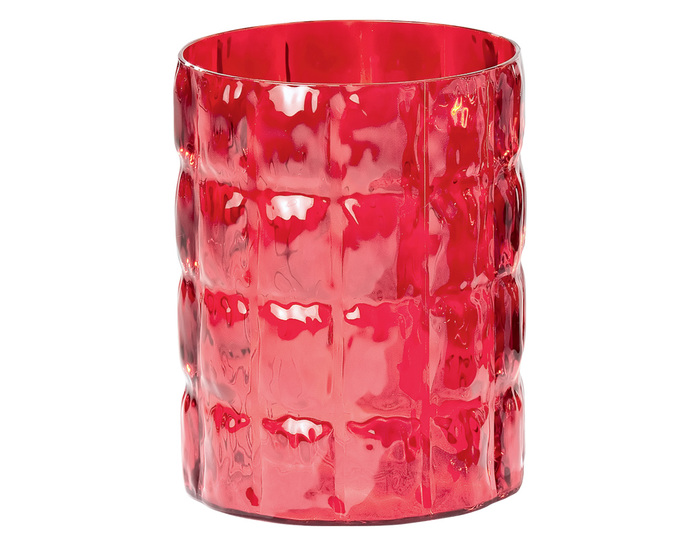 matelassé vase
Design Patricia Uroquiola, 2010
Transparent or batch dyed PMMA
Made in Italy by Kartell
A colorful and playful round container-vase, ideal for any room in the home. The distinctive feature and special allure of these original vases lie in their particular conformation suggestive of a waffled fabric with irregular sinuosities caused by the different surface thicknesses. A design item uniting the softness of its core with its sturdy structure, made possible by the to quality plastic used in its manufacture. The Matelasse vases are suitable for indoor/outdoor use and offered in various transparent or opaque colors.
Born in Oviedo, Patricia Urquiola attended the Madrid Polytechnic and the Milan Polytechnic Universities where she graduated in 1989 with Achille Castiglioni as her supervisor of whom she was assistant at the Milan Polytechnic from 1990 to 1992. From 1990 to 1996 she was at the Product Development Office for De Padova where she co-operated with Vico Magistretti. In 1996 she became design responsible at Studio Lissoni and Associates. In 2001 she opened a studio of planning where she looks after design, installations and architecture. This brilliant Spanish architect is a phenomenon not to be lost sight of.
9" dia. | 11.8" h | 3.6 lbs.
$180.00 + free shipping
(usually ships in 8-12 weeks)

Born in Oviedo, Patricia Urquiola attended the Faculty of Architecture of the Technical University of Madrid, where she graduated in 1989 having completed a thesis with Achille Castiglioni. From 1990 to 1992, she was assistant lecturer on his courses. Between 1990 and 1996, she worked with Vico Magistretti for the new product development office of De Padova and signed the products: "Flower," "Loom sofa," "Chaise," and "Chaise Longue."

Kartell's image and its 59 years of history are described through the company's products. The development, the corporate strategies, the attention the company has paid to technology, the project and the design can be appreciated by observing the products Kartell has produced. Kartell's products express the language and the atmosphere of the period in which they were created, but at the same time, they are "contemporary articles," they incorporate many other values and messages and this is why they have become an integral part of our domestic design world.