kaiser idell pendant lamp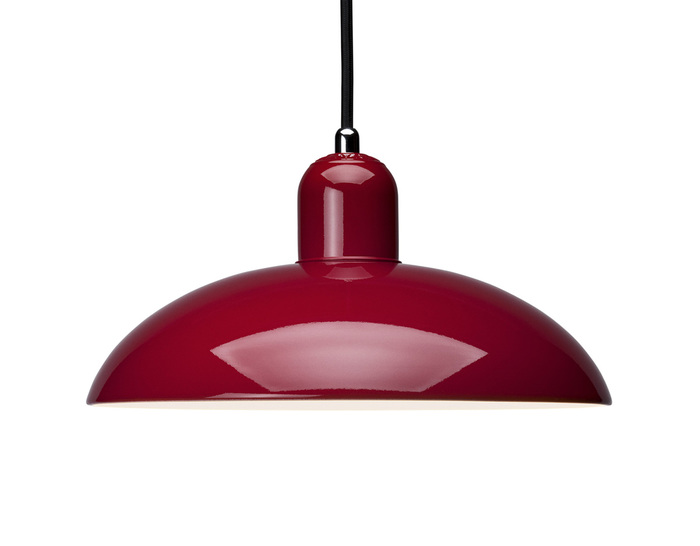 kaiser idell pendant lamp
Design Christian Dell, 1931
Steel & brass
Made in Denmark by Fritz Hansen
The Kaiser idell™ collection is available in different versions: Table, wall, floor lamps and pendants. Kaiser idell is an original Bauhaus design. The series is based on a world-patented swivel joint and the characteristic dome embossed with "ORIGINAL KAISER-idell". Beginning in 1926 Dell sketched lights, often for the lamp factory Gebr. Kaiser & Co. The first catalogue was launched in 1936 in which the table lamp model 6631 Luxus appeared for the first time. This lamp soon became the undisputed top model of the KAISER idell™ series - then, as well as today, the symbol of noble Germanic design, exquisite choice of materials and precise engineering.
Christian Dell was a German silversmith and designer. From 1922-25 he worked as foreman of the metal workshop at the Bauhaus in Weimar where he was the man behind a highly innovative and pioneering style of design. The Bauhaus occupies a place of its own in the history of the 20th century culture; architecture, design, art and new media. As one of the first colleges of design, it brought together a number of the most outstanding contemporary architects and artists.
The lamps are made in steel and brass and the lampshades are hand painted in high gloss. The chrome-plated lamp elements consist of hand polished and silver-soldered brass. The term "idell" is a reference to the word idea and his last name, Dell. "Kaiser" is a reference to the original manufacturer - KAISER idell.
pendant lamp: 5.3" h | 11.2" dia. | cord: 9.8' L
requires 1x40W E26 incandescent or 5W LED bulb
$536.00 + free shipping
(In-stock items are ready to ship. All other options usually ship in 6-8 weeks)

Fritz Hansen was established in 1872 by the visionary cabinetmaker of the same name. Since then, Fritz Hansen has become a natural part of both Danish and international design history. Today, it is an exclusive and international design brand. The history of Fritz Hansen is characterized by stupendous craftsmanship, unique design and an inherent sense of premium quality. Leading architects and furniture designers from all over the world have regularly contributed to the collection with beautifully shaped and functional furniture that seamlessly meet through the use of innovative techniques and new materials. Arne Jacobsen, poul kjaerholm, Piero Lissoni, Kasper Salto and Morten Voss - the stellar string of designers is long and the list of furniture of classic and iconic fame is even longer.
kaiser idell pendant lamp