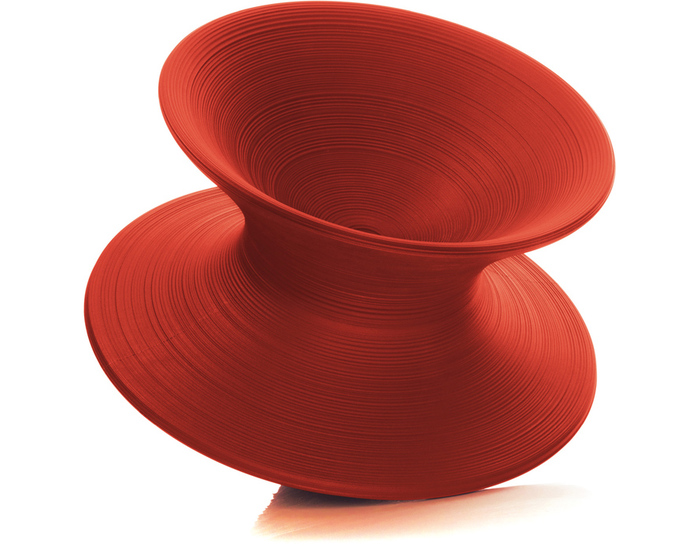 magis spun chair
Design Thomas Heatherwick, 2010
Rotational molded polyethylene or polycarbonate
Made by Magis
Spun came out of research into the geometric simplification of a familiar object type. Could a completely rotationally symmetrical form make a comfortable chair? The result is not immediately apparent as a chair and when upright looks more like a sculptural vessel. When lent on its side however, Spun forms a comfortable and functional chair that the sitter can rock from side to side, or even spin around in a complete circle.
So if you've never been one for sitting still, the Spun chair is for you. Rock or spin your way to creativity or relaxation, indoors or out. Bright and whimsical, it's a chair that defies definition.
36" w | 36" d | 26" h
$995.00 + free shipping
(grey anthracite & red usually ship in 20 business days. Please allow 12-18 weeks for all other options)

The Magis company was founded in 1976 and had their first success in 1984 with Stepladder that was influential and crossed over into the designer furniture market from the hardware stores. They had two more huge successes in 1994 with Jasper Morrisons Bottleand the Lyra stool from the Italia Group, their bestseller. Two years later, the Bombo stool designed by Stefano Giovannoni would gain enormous success and cultivate an imitable style. Once the company gained momentum, they never slowed and would go on to produce Jasper Morrisons technologically advanced Air-Chair Michael Youngs Dog House Konstantin Grcics Chair One the Me Too line of childrens objects and furniture, and the Striped family from the Bouroullec brothers.