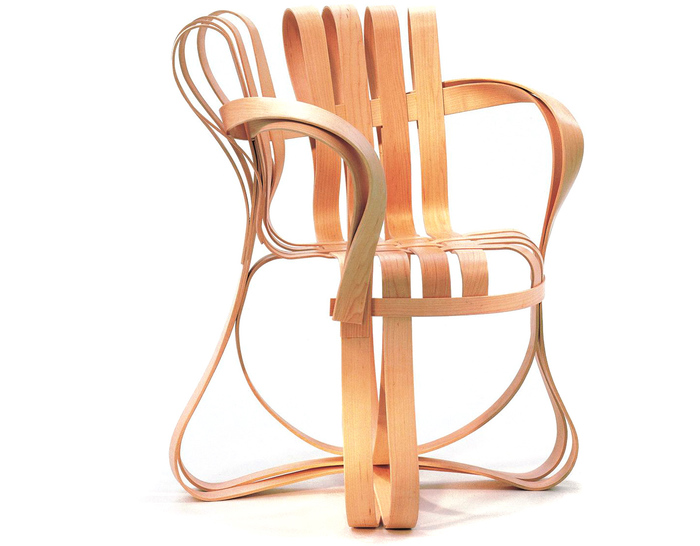 gehry cross check chair
Design Frank Gehry, 1992
Maple wood
Made in USA by Knoll
Inspired by the apple crates he had played on as a child, Pritzker Prize-winning architect Frank Gehry created the ribbon-like design of the Cross Check chair with interwoven maple strips. The graceful design integrates material with structure, transcending all conventions of style. The simple, sturdy beauty of this unique chair makes for an ideal dining room addition.
Construction notes: Each chair comes stamped with the KnollStudio logo, Frank Gehry's signature and the date of production. Back of chair flexes for added comfort. Optional seat cushion, available in a variety of fabrics and leathers. Construction: Hard white maple veneers in 2"- wide, 1/34"-thick strips; all wood grains run in the same direction for resilience. Laminated to 5- or 7-ply thickness with high-bonding urea glue. Contoured seat constructed of cross-ply maple for rigidity. Glides are clear plastic with matte frost finish.
Awards: ASID Award, 1992 ROSCO Award, 1992 ID Magazine Gold Award, 1992 ICFE Award for Excellence, 1992 IBD Award (Silver), 1992 Premium Imperiale Award (Prince Takamatsu World Culture Award), 1992 Time Magazine, Best Design of 1992.
28" w | 25" d | 34" h | seat: 18" h | arm: 29" h
$5,680.00 + free shipping
(please allow 8 weeks for this special chair to be created and shipped to your location)

Frank Gehry (b. 1929, Toronto) has been described as the "most important architect of our age" by Vanity Fair, and his buildings are among the most recognizable in the world. His best-known works include the masterful Guggenheim Museum in Bilbao, Spain, the vibrant and playful MIT Stata Center in Cambridge, Massachusetts, the elegant Walt Disney Concert Hall in downtown Los Angeles, and the colorful and psychedelic Experience Music Project in Seattle. Nearly all of his buildings attract tourists and demand attention with their unique and unusual forms.

Hans Knoll, the son of a pioneer German furniture manufacturer, founded the Knoll company in New York City in 1938, one year after immigrating from Germany. He hired Florence Schust, a Cranbrook graduate who had worked for Gropius and Breuer, and the two were married in 1946. The next year, they opened a textiles division and showroom that was flanked with some of the worlds leading designers. Knoll would triumph thanks to impressive international contacts, gaining exclusive rights to the works of Ludwig Mies van der Rohe and producing them to their original specifications. This included the 1929 Barcelona Chair. They also commissioned Eero Saarinen to design the now iconic Tulip chair, and hold the rights to Marcel Breuer's seminal Wassily Chair. Artists such as Harry Bertoia, Jens Risom, and Isamu Noguchi would also collaborate with Knoll.