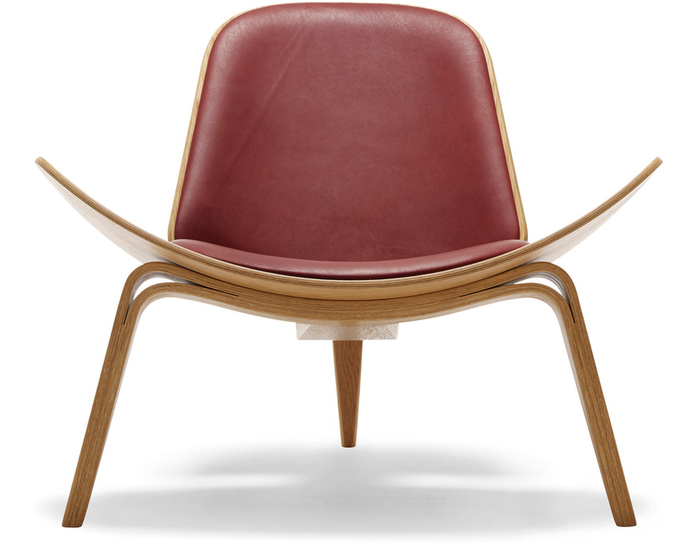 ch07 lounge chair
Design Hans Wegner, 1963
Form-pressed plywood, upholstery
Made in Denmark by Carl Hansen & Son
The Hans Wegner three-legged shell chair was originally introduced in 1963. A few limited series were produced, but the project soon came to a stand still. The chair was relaunched in 1997 and after 34 years of oblivion the chair finally got its breakthrough. As a curiosity, it is worth mentioning that one of the original shell chairs from the 60s sold for $20,000 at Christies in London in 1999.
Seat and back are made of formpressed plywood shells. The 3 legs consist of a laminated construction, the 2 front legs are made of one continuous piece and the hind leg is a separate element. To enhance the comfort, Wegner has added 2 upholstered cushions which are fastened to the shell with screws from the back. In spite of its three-legs it stands well on the floor and does not easily topple over. Although it is low and does not feature armrests it is easy to get up by seizing the front edge and pulling oneself up. It is elegant as a soloist as well as in groups of 2, 3 or more. In 1999 the chair was given the highest possible grade in The Technological Institute of Denmark's test program.
Quick-ship versions available.
29.1" h | 32.7" d | 36.2" w | seat: 13.8" h
$3,730.00 + free shipping
(These special chairs are hand-made in Denmark... Quick-ship options usually ship in 3-5 days. Please allow 8-12 weeks for custom configurations to be created, shipped and delivered)

Hans Jørgensen Wegner's (1914 - 2007) high-quality and thoughtful work contributed to the international popularity of mid-century Danish design. His style is often described as Organic Functionality, a modernist school with emphasis on functionality, arising primarily in Scandinavian countries. In his lifetime, he designed over 500 different chairs, over 100 of which were put into mass production, with many recognizable icons among them. Born to cobbler Peter M. Wegner, he worked as a child apprentice to Master cabinetmaker H. F. Stahlberg. With an affinity for wood, he attended the Danish School of Arts and Crafts and the Architectural Academy in Copenhagen. In 1936, he began studies at what is now The Danish Design School, with O. Mølgaard Nielsen as teacher.

A workshop in Odense, Denmark in 1908, was the birthplace of the Carl Hansen company. With a fast reputation for quality work, Carl Hansen confidently took on large projects like dining room sets and bedroom suites. However, Hansen eventually learned to capitalize on scaled-back versions of his popular sellers, realizing that their strongest asset was its hand craftsmanship and rationality. Carl Hansen invited Hans Wegner to create designs in 1949, launching a mutually beneficial relationship bringing success to the company and exposure to the young Wegner. Wegner was still relatively unknown, but soon gained wide acclaim that continues to today.