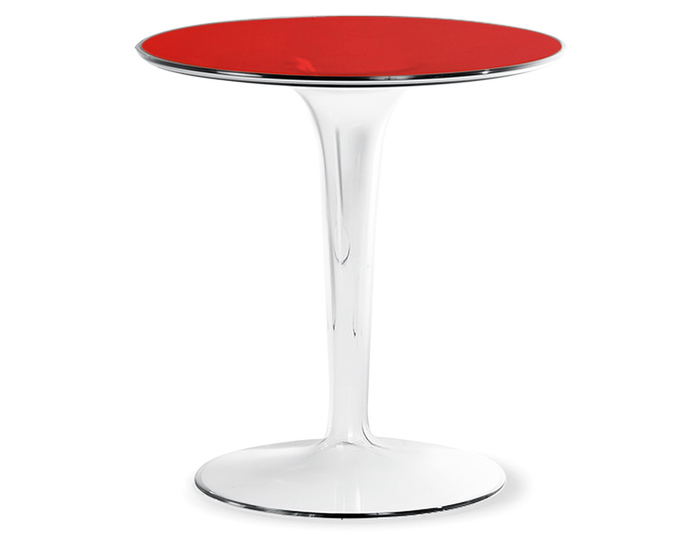 tip top side table
Design Philippe Starck & Eugeni Quitllet, 2010
Transparent or batch-dyed PMMA
Made in Italy by Kartell
TipTop is a small side table, light and versatile, formed of a single base supporting the round table top. The combination of the colored top and the hollow transparent leg gives depth to the structure. The top is available in a vast range of transparent or matte colors and is suitable for indoor/outdoor use.
As one of the best-known contemporary designers in the world, Philippe Starck has placed honesty and integrity at the core of his designs producing quality products with longevity & durability. He seems to understand, better than others our dreams, our desires, our needs, and our responsibility to the future, as well as the overriding need to respect his fellow citizens by making his work a political and civic act.
18.9" dia. | 20" h | 8.4 lbs.
$269.50 + free shipping
(crystal & solid glossy white top & base usually ships in 5-7 business days. Please allow 8-12 weeks for all other options)

Paris-born Philippe Patrick Starck (b. 1949) has a wide range of design, but is very well known for his consumer goods and interiors. He was educated in Paris at the École Camondo and founded his first design firm, which specialized in inflatable objects, in 1968. The next year, he became art director of his firm along with Pierre Cardin. He has worked both independently as an interior designer and as a product designer since 1975. After designing the private apartment interiors for French President François Mitterrand in 1982, his career began to climb significantly. In 1986 he joined Domus Academy Department of Design as an associate lecturer. Two of Starck's famous designs include stylized toothbrushes (1989) and a sleek juicer dubbed the Juicy Salif created for Alessi in 1990. The Juicy Salif has become an affordable and popular cult item.

Kartell's image and its 59 years of history are described through the company's products. The development, the corporate strategies, the attention the company has paid to technology, the project and the design can be appreciated by observing the products Kartell has produced. Kartell's products express the language and the atmosphere of the period in which they were created, but at the same time, they are "contemporary articles," they incorporate many other values and messages and this is why they have become an integral part of our domestic design world.