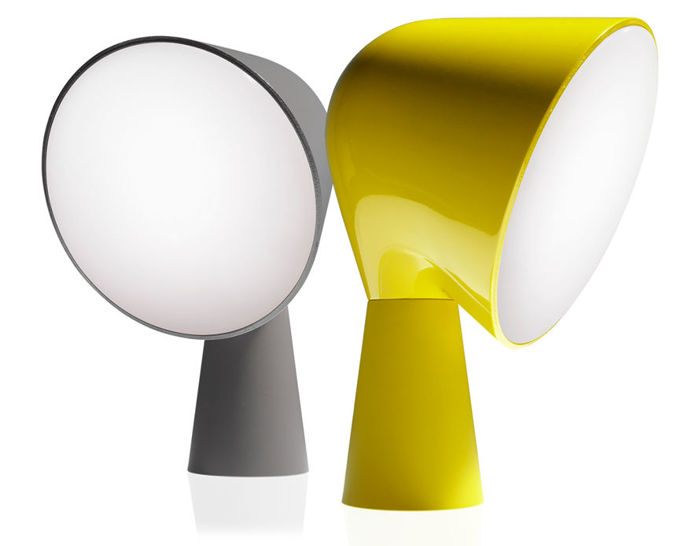 binic table lamp
Design Ionna Vautrin, 2010
Polycarbonate, ABS
Made in Italy by Foscarini
Small but full of personality, Binic irresistibly draws attention with its friendly, poetic and slightly cartoon shape, projecting a focussed light downwards, like your own private lighthouse. It has a simple yet surprising architecture: the upper rounded volume with its shiny finish and the conical satin base appear to challenge the force of gravity and yet the light is perfectly stable, as the difference in weight is only visual.
Ionna has produced a range of 6 colors for Binic. An extremely wide range of colors for a designer product, that can be placed in differently decorated environments but, above all, can match the personality of whoever chooses his or her Binic.
Compact, fun, multicolored and accessible, from young environments to the home studio or a day or night space. As a 'take away' object, a present or a personal object of desire. In a packaging that is just as special and fun, with the color of the light and its unmistakable shape.
Born in France in 1979, Ionna Vautrin graduated from L'école de design Nantes Atlantique in 2002. She worked successively for Camper in Spain, and by the Studios of George J. Sowden in Italy and of Ronan & Erwan Bouroullec in France. At the same time she develops her own works with different design companies: first time with Industreal in Milan, then with the Tools Galerie in Paris and since 2010 with Foscarini.
8" h | 5.5" d | 5.5" w | 1.32 lbs.
requires max 1x12W E12 bulb
$243.20 + free shipping
(usually ships in 5-7 business days)

Ionna Vautrin was born in 1979 in France and graduated in 2002 from l'école de design Nantes Atlantique. She lives and works in Paris. Since 2002 she has worked successively for Camper in Spain, for George J. Sowden in Italy and for Ronan & Erwan Bouroullec in France. At the same time she developed her own projects with different companies: starting with Industreal, the Tools Galerie, Wallpaper and more recently for Foscarini, Moustache & Super-ette. She opened her own studio in January 2011 after receiving the Grand Prize of Creation from the city of Paris.

Riccardo Olivieri set up Foscarini Spa in Murano in 1981. Two years later, they debuted their catalog, with lamps from Carlo Urbinati and Allesandro Vecchiato, who would become the company's managers by 1988. Eventually these new owners would move the company off the island and into Venice, as well as transition Foscarini from a glassworks shop to a major design competitor. They had already begun working with external designers in 1985, but their first success came in 1990 with Rodolfo Dordoni's "Lumiere" Most all lighting projects were made of glass until 1993, at which point the Havana lamp primarily used polyethylene, making it lighter, more cost-effective, and able to be used indoors and outdoors. It now resides in the MoMA in New York. Other successful lamps would come to define the company, such as the "Mite & Tite" series by Marc Sadler in 2000 (which earned a Compasso d'oro), Patricia Urquiola's 2005 "Caboche" and Marc Sadler's signature lamp "Twiggy."