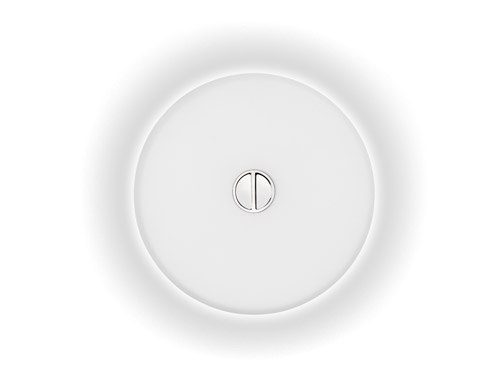 mini button lamp
Design Piero Lissoni, 2005
Opal glass, aluminum, polycarbonate, silicone
Made in Italy by Flos
Button-like artifacts have been used for ornamentation since pre-history. The Button lamp, by Piero Lissoni, is a wonderful example of such ornamentation. Provides direct and diffused light through an opal glass diffuser held in place with an aluminum body. Button can be wall or ceiling mounted.
After receiving his degree in architecture form the Milan Polytecnic, Piero Lissoni worked as a furniture designer before founding his own studio in 1986, specializing in architecture, interior and graphic design. He has collaborated with furniture companies, worked on a number of architecture projects in Japan and worked on design projects that have included a shopping center, an art gallery, a Cordon Bleu cooking school, logos and trademarks. He has received numerous awards including the Chicago Athenaeum 2002 Good Design Award for the Divina collection.
5.5" dia. | 1.8" d | 1.3 lbs.
requires 1x25w G9 frosted halogen bulb
$270.00 + free curbside delivery delivery in the continental US
(usually ships in 7-10 days)

Piero Lissoni (b. 1956) of Seregno, Italy originally studied architecture in Milan, but first worked as a designer for Molteni and Lema, and later as art director and designer for a well-known food manufacturer. In 1986 he founded his own studio with Nico Canesi that still employs many architects, designers and product designers. The company's second office, called "Graph.x" opened in 1996. Lissoni is well known for designing the internal architecture of hotels, such as the Monaco & Grand Canal in Venice , and the Bentley design hotel in Istanbul. As a graphic designer, Lissoni designed the corporate identity of the fashion designer Elie Taharie. As a product designer, his leg chair "S44" is very well known.

The furniture manufacturers and entrepreneurs Dino Gavina and Cesare Cassina founded Flos which became one of the leading Italian light manufacturers in the second half of the 20th century. Its origins lay in the energy of Arturo Eisenkeil who, in 1959, was seeking to find applications for a new, plastic-based material that he was importing to Italy from the United States. Called cocoon™, it was a spray-on plastic coating that Gavina and Cassina recognized as having potential for lighting design. From the outset, Flos established its reputation through its innovative lighting designs from Achille Castiglioni. The collaboration with Achille Castiglioni continued through the '90s, and in 1992 he introduced the "family of products" concept to the market with the Brera series. At the same time, Flos continued to scout for emerging talent at an international level. The first Philippe Starck lamp was produced in 1998, followed by the Miss Sissi lamp, Romeo Moon, and Archimoon series.