knoll barcelona cowhide stool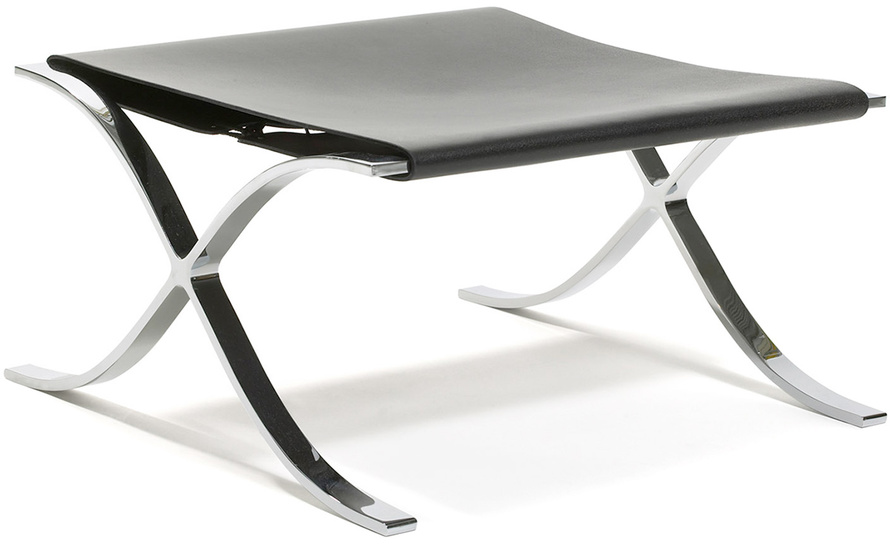 knoll barcelona cowhide stool
Design Mies van der Rohe, 1929
single piece hand-buffed chromed frame, cowhide
Made in USA by Knoll
Created by Ludwig Mies van der Rohe for the German Pavilion at the 1929 Barcelona Exposition, the Barcelona stool features the pure compositional structure that now epitomizes Modern architecture. From the hand-buffed stainless steel or chromed frame, each Barcelona stool is a tribute to traditional craftsmanship and meticulous attention to detail. Knoll is the only authorized and licensed manufacturer of the Barcelona Collection since 1953. Mies van der Rohe's signature is stamped into the frame of each piece to guarantee authenticity. Knoll has received trademark protection for the designs created by Mies van der Rohe, a Barcelona stool not manufactured by Knoll is a counterfeit.
Construction notes: Chrome frame is hand-ground and hand-buffed to a mirror finish with a thick cowhide sling in black with nylon laces.
21.5" w | 23" d | 12.25" h | 26lbs.
$2,585.00 + free shipping
(please allow 8-12 weeks for this stool to be created and shipped to your location)

German-American Ludwig Mies van der Rohe (1886 – 1969) commonly known as Mies, is widely regarded as one of the pioneering masters of modern architecture, alongside Le Corbusier and Frank Lloyd Wright. He sought to establish a new architectural style that could represent modern times just as Classical and Gothic did for their own eras. His buildings made use of modern materials and he strived towards a minimal framework of structural order balanced against the implied freedom of free-flowing open space. He is often associated with the aphorisms "less is more" and "God is in the details". Mies designed pieces that have become popular classics, such as the Barcelona chair and table, the Brno chair, and the Tugendhat chair. His furniture is known for fine craftsmanship, a mix of traditional luxurious fabrics, like leather, combined with modern chrome frames, and a distinct separation of the supporting structure and the supported surfaces, often employing cantilevers to enhance the feeling of lightness created by delicate structural frames. He collaborated closely with interior designer and companion Lilly Reich.

Hans Knoll, the son of a pioneer German furniture manufacturer, founded the Knoll company in New York City in 1938, one year after immigrating from Germany. He hired Florence Schust, a Cranbrook graduate who had worked for Gropius and Breuer, and the two were married in 1946. The next year, they opened a textiles division and showroom that was flanked with some of the worlds leading designers. Knoll would triumph thanks to impressive international contacts, gaining exclusive rights to the works of Ludwig Mies van der Rohe and producing them to their original specifications. This included the 1929 Barcelona Chair. They also commissioned Eero Saarinen to design the now iconic Tulip chair, and hold the rights to Marcel Breuer's seminal Wassily Chair. Artists such as Harry Bertoia, Jens Risom, and Isamu Noguchi would also collaborate with Knoll.
knoll barcelona cowhide stool