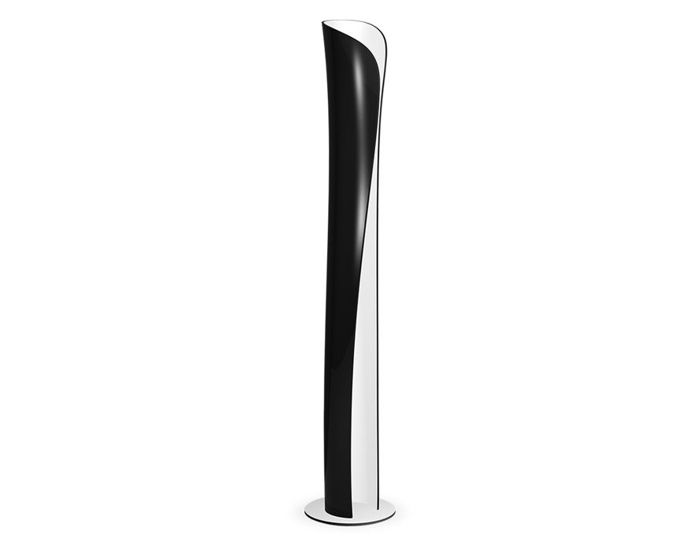 cadmo floor lamp
Design Karim Rashid, 2006
Steel, weighted metal base, aluminum
Made in Italy by Artemide
A floor lamp, Cadmo freatures a steel panel which screens and releases a soft indirect light upwards together with a diffused light along the vertical aperture of the lamp. A combination of halogen light sources, for indirect and diffused emission, with seperate switching. The body of the lamp is steel with exterior in black lacquer or white powder coated finish and interior in white powder coated finish. The weighted metal base is mirrored stainless steel and there is a on/off and dimmer control (uplight only) on the cord for independant operation of each of the two light sources. Available in your choice of black/white or white/white and come with an aluminum interior shield.
Karim Rashid was born in Cairo, Egypt; Half-English, half Egyptian and raised mostly in Canada. He received a Bachelor of Industrial Design in 1982 from Carleton University in Ottawa, Canada. He pursued graduate design studies in Naples, Italy, with Ettore Sottsass and others, then moved to Milan for one year at the Rodolfo Bonetto Studio. He opened his own practice in New York City in 1993.
68.5" h | base: 12.6" dia.
includes 44W 2700K or 3000K, 90CRI LED integrated light source
$2,670.00 + free shipping
(usually ships in 2-4 weeks. Please allow 10-12 weeks for 2700K color temperature LED)

Born in Cairo to Egyptian and English parents, and raised in Canada, Karim Rashid (b. 1960) now resides in New York managing his private design studio. With over 3,000 objects put into production, he has branched out into architecture and interiors with the Morimoto restaurant in Philadelphia and Semiramis Hotel in Athens. Rashid was an associate Professor of Industrial Design for 10 years and is now a frequent guest lecturer at universities and conferences globally. Rashid's award winning designs include the Garbo waste can and Oh Chair for Umbra, the bobble water bottle, and exhibitions for Deutsche Bank and Audi.

The Artemide light has never been solely a function of seeing, or an opportunity for formal experimentation with lamps as objects. For more than forty years, Artemide has aimed to propose light as a companion to people, as a source of physical pleasure and mental comfort. Artemide has done so, with different work groups, searching through the whole design process, starting with a declaration of values - The human light. Beyond the definition, the human light is intelligent light. A light that knows it has to relate to people, accompanying them in their daily activities.