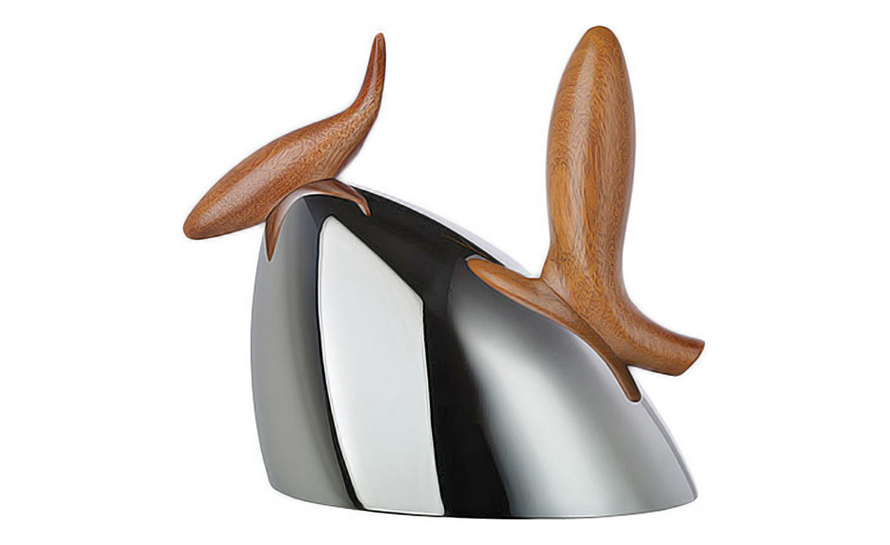 frank gehry pito kettle
Design Frank Gehry, 1992
Polished steel, mahogany
Made in Italy by Alessi
The Pito is currently Alessi's only project designed by the great California architect who, with a ground-breaking formal language and outstanding sculptural talent, has created some of the most extraordinary and fundamental works of architecture of our age.
Frank Gehry has single-handedly changed conventional ideas about architecture. Recent masterpieces include the Guggenheim Museum in Bilbao and the Disney Concert hall in Los Angeles. Gehry's unique vision and innovative use of materials has brought him numerous honors. Through his emphasis on collaboration in the creative process, Gehry continues to transcend the boundaries of design.
The Pito kettle is offered with a mirror polished steel body, mahogany handle and cap with melodic whistle.
9.25" L | 8.3" w | 7.2" h
$610.00 + free shipping
(in-stock items usually ship in 1-2 business days. Otherwise, please allow approximately 3 weeks for delivery.)

Frank Gehry (b. 1929, Toronto) has been described as the "most important architect of our age" by Vanity Fair, and his buildings are among the most recognizable in the world. His best-known works include the masterful Guggenheim Museum in Bilbao, Spain, the vibrant and playful MIT Stata Center in Cambridge, Massachusetts, the elegant Walt Disney Concert Hall in downtown Los Angeles, and the colorful and psychedelic Experience Music Project in Seattle. Nearly all of his buildings attract tourists and demand attention with their unique and unusual forms.

Alessi was founded in 1921 by Giovanni Alessi to produce crafted metal products for eating and drinking. In 1935, Carlo Alessi, son of Giovanni, was named chief designer. In 1945, he ascended to chief executive and designed the coffee service Bombe, an industrial piece manufactured in four sizes. That same year Carlo's younger brother, Ettore Alessi, joined the company as a technician. By the 1980s, Alberto Alessi took over the management of Alessi and launched the Alessi company into the design decade through collaborations with designers such as Philippe Starck and his playful three-legged Juicy Salif citrus squeezer.