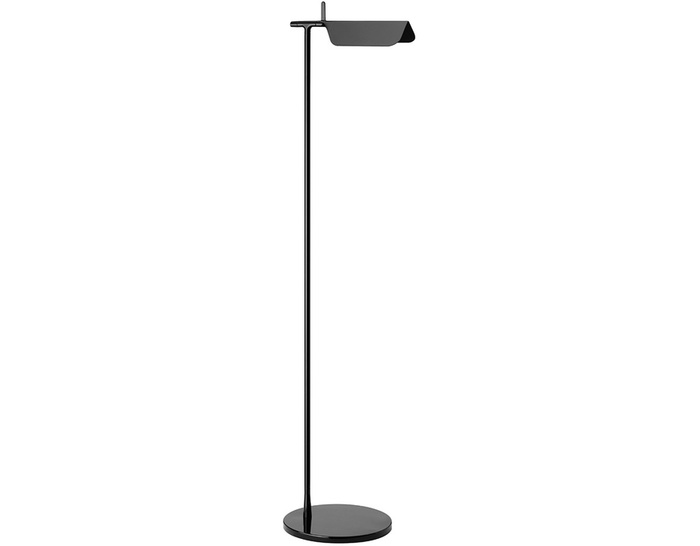 tab led floor lamp
Design Edward Barber & Jay Osgerby, 2008
Aluminum, PMMA
Made by Flos
"When we are commissioned to design a product, we seek to re-evaluate the archetype, to challenge precedents. We always look at different ways in which products can be manufactured, not necessarily by using new materials or radical re-thinking, but maybe by using existing techniques in a more original or intelligent way." -Barber & Osgerby
Tab is a new floor and table lamp design from BarberOsgerby. The floor lamp provides direct lighting with a pivoting and rotating head. Lamp body painted with pressofused aluminum. Its multi-led diffuser is specially designed PMMA (Polymethyl methacrylate), created to avoid "multi-shadow" effect and dazzle. On/off switch on power cord. An elegant design that would add a beautiful glow to any space.
Edward Barber and Jay Osgerby studied Architecture together at The Royal College of Art in London and established BarberOsgerby in 1996. Much of their early work involved the folding and shaping of sheet material. From their beginning, they have had a diverse array of commissions from hangers for Levi's to furniture for a cathedral on the south coast of England. They have been awarded a number of prizes for their works and recently been developing collection for leading manufacturers and clients around the world.
43.3" h | shade: 10.7" w | 1.9" h | base: 9.4" dia. | 78" black cord | 4.4 lbs. | UL listed
Includes 14 LED, 2700k, 347 lumen CRI 80 - 9W
$585.00 + free curbside delivery delivery in the continental US
(This item is estimated to ship in 6-8 weeks)

London-based industrial design studio Barber & Ogersby was established in 1996 by British designers Edward Barber and Jay Osgerby. The two men met while studying for their Master's degrees in Architecture at London's Royal College of Art. Their first piece together, the Loop table, secured a relationship with Cappellini and garnered much acclaim. As a team, their multidisciplinary portfolio now encompasses furniture, lighting and product design as well as art and architectural-scale projects. They are both Royal Designers for Industry (RDI) and are past recipients of the Jerwood Applied Arts prize. Both are Honorary Doctors of Arts, and Osgerby is an Honorary Fellow of Ravensbourne. The pair have lectured internationally and their work is held in permanent collections around the world including the Victoria & Albert Museum, London; the Metropolitan Museum of Art, New York; London's Design Museum; and the Art Institute of Chicago. Significant recent projects include the Tip Ton chair for Vitra (2011) and the London 2012 Olympic and Paralympic Torches.

The furniture manufacturers and entrepreneurs Dino Gavina and Cesare Cassina founded Flos which became one of the leading Italian light manufacturers in the second half of the 20th century. Its origins lay in the energy of Arturo Eisenkeil who, in 1959, was seeking to find applications for a new, plastic-based material that he was importing to Italy from the United States. Called cocoon™, it was a spray-on plastic coating that Gavina and Cassina recognized as having potential for lighting design. From the outset, Flos established its reputation through its innovative lighting designs from Achille Castiglioni. The collaboration with Achille Castiglioni continued through the '90s, and in 1992 he introduced the "family of products" concept to the market with the Brera series. At the same time, Flos continued to scout for emerging talent at an international level. The first Philippe Starck lamp was produced in 1998, followed by the Miss Sissi lamp, Romeo Moon, and Archimoon series.