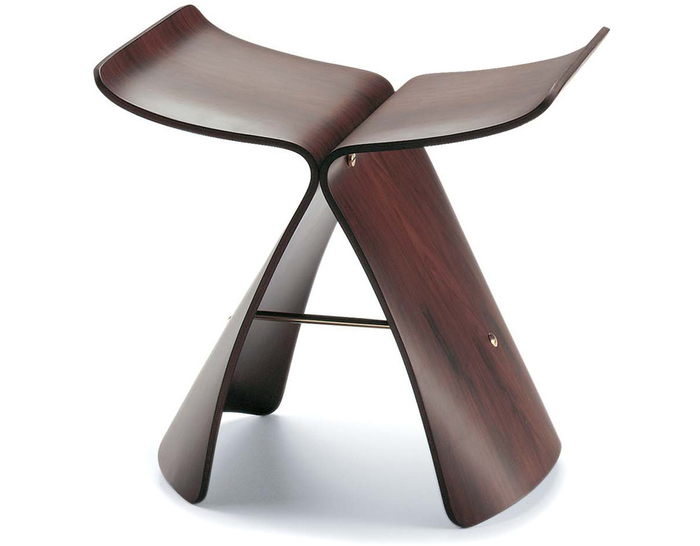 yanagi butterfly stool
Design Sori Yanagi, 1954
Lacquered bent plywood, brass fittings
Made in Switzerland by Vitra
"true beauty is not made; it is born naturally", Sori Yanagi.
Long admired for it's sculptural silhouette, Sori Yanagi's 1954 Butterfly Stool has been an elusive beauty to net. Vintage examples often command upwards of a few thousand dollars at auction. Originally produced and distributed only in Japan, Vitra has secured the authorization and license to produce and distribute this classic.
15.25" h | 16.5" w | 12.25" d
Available in natural maple or rosewood plywood.
$1,090.00 + free shipping
(usually ships in 12 weeks)

Yanagi Sori combines Japanese and Western aesthetics with modern manufacturing techniques to create a harmonious image. He attended the Tokyo Art Academy from 1933 to 1938. He worked for the architects Junzo Sakakura in 1940, and from 1949 to 1942, he was assistant to Charlotte Perriand, who at the time had a commission to advise the Japanese Trade Ministry in Tokyo on arts and crafts. In 1954, Yanagi designed the famous Butterfly stool, whose delicate form recalls not only a butterfly, but also a Japanese character. In the same year, he also designed the Elephant Stool. Both chairs were originally developed by the Japanese company Tendo Mokko, but are now manufactured by Vitra.

Vitra is a Swiss company dedicated to improving the quality of homes, offices and public spaces through the power of design. Following in the tradition of Charles & Ray Eames, who have influenced Vitra's approach to sustainability in many ways, product longevity is central to the company's contribution to sustainable development; short-lived styling is avoided at all costs. This can be seen most clearly in the classical pieces of furniture that have been used for decades, had several owners and have then even ended up as a part of a collection.