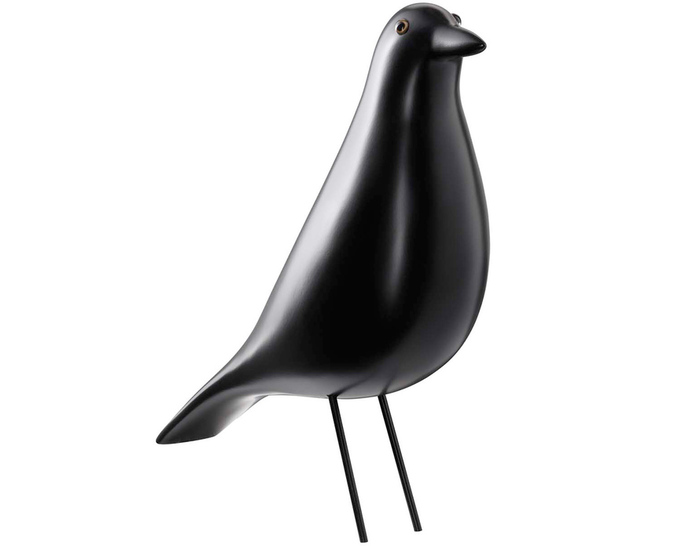 eames house bird
Charles & Ray Eames®, 1910
Solid Alder wood with black finish or solid walnut, steel wire legs
Made in Germany by Vitra
Charles and Ray Eames augmented the interior "collage" of the Eames House with numerous objects brought back from their extensive travels. The figure of a black wooden bird - evidently one of their most prized objects of American folk art - has stood in the center of their living room for over fifty years. Also seen as an accessory in many of the Eames' photographs, the bird figure was from the Appalachian mountain region of the eastern United States. Based on the original artifact and in cooperation with the Eames family, Vitra is now producing the first series of this figure.
With a grand sense of adventure, Charles and Ray Eames turned their curiosity and boundless enthusiasm into creations that established them as a truly great husband-and-wife design team. Their unique synergy led to a whole new look in furniture. Lean and modern. Playful and functional. Sleek, sophisticated, and beautifully simple. That was and is the "Eames look."
The Eames house bird features steel wire legs and is offered in solid Alder painted black or clear lacquered solid walnut.
11" h | 3.25" w | 11" L | 8" d
$320.00 + free shipping
(usually ships in 2-4 weeks)

Husband and wife team Charles (1907-1978) and Ray (1912-1988) Eames played a major role in the world of modern architecture and furniture, as well as working in industrial and graphic design, fine art, and film. Charles completed two years of study at Washington University in St. Louis. With his design and life partner Ray, he designed prize-winning furniture that expanded upon the wood molding techniques of Alvar Aalto. Ray-Bernice Alexandra Kaiser Eames began as an abstract expressionist painter, having graduated from Bennett Women's College in Millbrook, NY and later studying under Hans Hoffman while living in New York City. She co-founded the American Abstract Artists and has a painting in the Whitney museum's permanent collection.

Vitra is a Swiss company dedicated to improving the quality of homes, offices and public spaces through the power of design. Following in the tradition of Charles & Ray Eames, who have influenced Vitra's approach to sustainability in many ways, product longevity is central to the company's contribution to sustainable development; short-lived styling is avoided at all costs. This can be seen most clearly in the classical pieces of furniture that have been used for decades, had several owners and have then even ended up as a part of a collection.