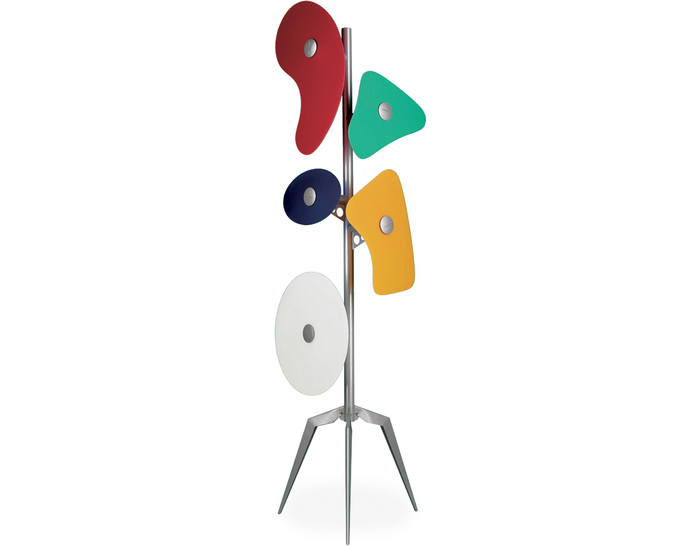 orbital floor lamp
Design Ferruccio Laviani, 1992
Lacquered metal, silk-screen printed glass
Made in Italy by Foscarini
The Orbital was Ferruccio Laviani's debut lamp. It marked Foscarini's first adoption of production materials other than Murano glass; but above all it constituted a long-standing icon which reinforced the company's image, particularly in the media.
A piece of sculpture, Orbital is made of a metal stem and supported by an adjustable metal tripod, on which the five supports for the glass shades are soldered. Initially, the glass shades were to be reminiscent of stained glass cathedral windows. They are made out of industrial glass, silk-screened in white or different colors, and satin finished on the outer surface and polished on the inside to allow light reflection.
As an architect and designer, Ferruccio Laviani works in the fields of furnishing and accessories, industrial communication, exhibition, event and show room installation. He has worked with a variety of companies worldwide. In 1992, the collaboration between Laviani and Foscarini began and it has continued since, with the research of new shapes and materials. His contemporary style is hallmarked by a particular sign or color.
Available in your choice of white or colored glass shades.
20.75" dia. | 67" h | 22.38 lbs.
requires 5x40w max E12 bulbs
$2,238.00 + free shipping
(usually ships in 5-7 business days)

Ferruccio Laviani (b. 1960) of Cremona, Italy graduated from Politecnico di Milano in architecture in 1986 and created industrial design objects, mainly lamps or lighting systems known for colored transparent plastics. From 1986-1991, he was a member of the De Lucchi studio, designing for various companies such as Credito Bergamasco, Mandarina Duck, Memphis, Olivetti, and Swatch. He came into prominence as the Memphis group began to leave its mark on International design. In 1991, he showed his silverware from the Morandotti collection at the "European Capitals of New Design" exhibition at the Centre Pompidou in Paris. The same year, he began a collaboration with Kartell and is now an artistic director and consultant.

Riccardo Olivieri set up Foscarini Spa in Murano in 1981. Two years later, they debuted their catalog, with lamps from Carlo Urbinati and Allesandro Vecchiato, who would become the company's managers by 1988. Eventually these new owners would move the company off the island and into Venice, as well as transition Foscarini from a glassworks shop to a major design competitor. They had already begun working with external designers in 1985, but their first success came in 1990 with Rodolfo Dordoni's "Lumiere" Most all lighting projects were made of glass until 1993, at which point the Havana lamp primarily used polyethylene, making it lighter, more cost-effective, and able to be used indoors and outdoors. It now resides in the MoMA in New York. Other successful lamps would come to define the company, such as the "Mite & Tite" series by Marc Sadler in 2000 (which earned a Compasso d'oro), Patricia Urquiola's 2005 "Caboche" and Marc Sadler's signature lamp "Twiggy."