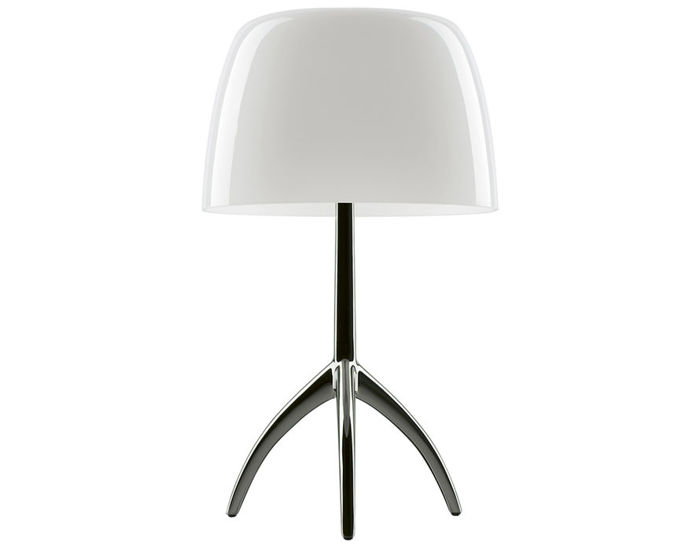 lumiere table lamp
Design Rodolfo Dordoni, 1990
Polished aluminum or varnished, blown glass
Made in Italy by Foscarini
A reinterpretation of the classic table lamp. The Lumiere series is a fine example of how contemporary designers reinterpret the 'forms of memory'; objects which are deeply rooted in their use and diffusion, whose reinterpretation appears quite recognizable and easy to accept.
In the history of Foscarini, Lumiere represents the symbol of an up-to-date design language brought in by the independant designers who contributed to improving the quality of the products and strengthening the brand impact.
Rodolfo Dordoni is an architect whose work ranges across art direction, furnishing and lamp designs, exhibitions, renovations, show room and point of sale set-ups. Some of the most famous objects of italian design carry his signature.
Lumiere features a blown glass shade with a colored outer layer, polished finish and white inner layer. The base is available in either a polished aluminum, black chrome or champagne finish.
small: 7.8" dia. | 13.75" h | shade: 5.5" h | 2.43 lbs. | requires 1x40w G9 bulb
large: 10.25" dia. | 17.75" h | shade: 6.75" h | 5.3 lbs. | requires 2x40w G9 bulbs
$639.00 + free shipping
(usually ships in 5-7 business days)

Riccardo Olivieri set up Foscarini Spa in Murano in 1981. Two years later, they debuted their catalog, with lamps from Carlo Urbinati and Allesandro Vecchiato, who would become the company's managers by 1988. Eventually these new owners would move the company off the island and into Venice, as well as transition Foscarini from a glassworks shop to a major design competitor. They had already begun working with external designers in 1985, but their first success came in 1990 with Rodolfo Dordoni's "Lumiere" Most all lighting projects were made of glass until 1993, at which point the Havana lamp primarily used polyethylene, making it lighter, more cost-effective, and able to be used indoors and outdoors. It now resides in the MoMA in New York. Other successful lamps would come to define the company, such as the "Mite & Tite" series by Marc Sadler in 2000 (which earned a Compasso d'oro), Patricia Urquiola's 2005 "Caboche" and Marc Sadler's signature lamp "Twiggy."