saarinen side table - 16" round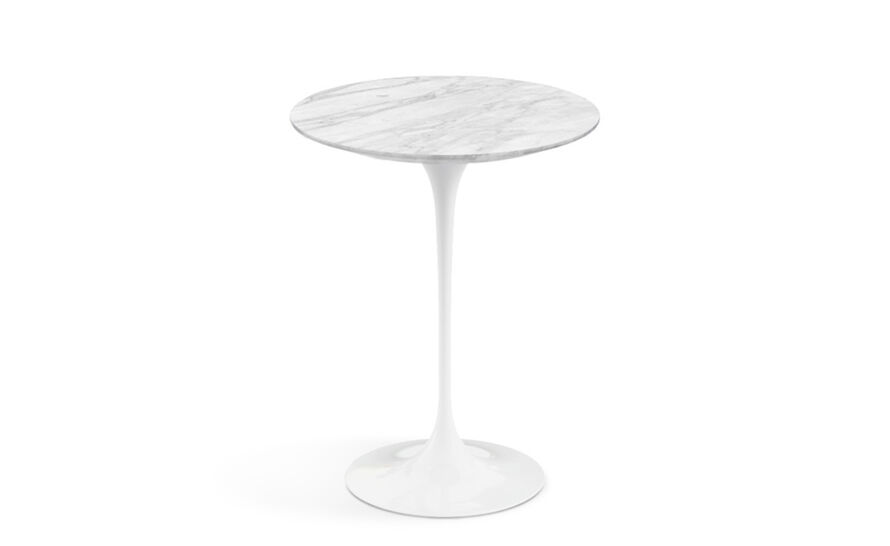 saarinen side table - 16" round
Design Eero Saarinen, 1956
Aluminum base, laminate, marble, granite or veneer top
Made by Knoll
In his purist approach to design, Finnish-born Eero Saarinen sought out the essential idea and reduced it to the most effective structural solution. "The underside of typical chairs and tables makes a confusing, unrestful world," explained Saarinen. "I wanted to clear up the slum of legs." In his pedestal collection, which includes a dining, coffee and side table, Saarinen realized his ideal of formal unity: "Every significant piece of furniture has a holistic structure." Winner of the 1969 Museum of Modern Art Award.
Construction notes: Base is constructed from molded cast aluminum polished and coated in tough, abrasion-resistant Rilsan® finish.
round top - 16.25" dia | 20" h
$877.00 + free shipping
(please allow 8-12 weeks for this special table to be created and shipped to your location)
related products

Finnish-American Eero Saarinen (1910 –1961) was famous for varying his style according to the demands of the project. His father taught at the Cranbrook Academy of Art, where Eero took classes and formed relationships with fellow students Charles and Ray Eames, and Florence Knoll. Saarinen studied sculpture at the Académie de la Grande Chaumière in Paris, France, and later at the Yale School of Architecture, completing his studies in 1934. He joined the US Military, where he was assigned to draw illustrations for bomb disassembly manuals and to provide designs for the Situation Room in the White House. He founded his own office in 1950, after his father's death. His first success, the "Tulip Chair" was produced by the Knoll company, beginning a long relationship between Knoll and Saarinen. While still working for his father, he won the design competition for the Jefferson National Expansion Memorial, in St. Louis, aka the Gateway Arch.

Hans Knoll, the son of a pioneer German furniture manufacturer, founded the Knoll company in New York City in 1938, one year after immigrating from Germany. He hired Florence Schust, a Cranbrook graduate who had worked for Gropius and Breuer, and the two were married in 1946. The next year, they opened a textiles division and showroom that was flanked with some of the worlds leading designers. Knoll would triumph thanks to impressive international contacts, gaining exclusive rights to the works of Ludwig Mies van der Rohe and producing them to their original specifications. This included the 1929 Barcelona Chair. They also commissioned Eero Saarinen to design the now iconic Tulip chair, and hold the rights to Marcel Breuer's seminal Wassily Chair. Artists such as Harry Bertoia, Jens Risom, and Isamu Noguchi would also collaborate with Knoll.
saarinen side table - 16" round