arne jacobsen eklipta wall/ceiling light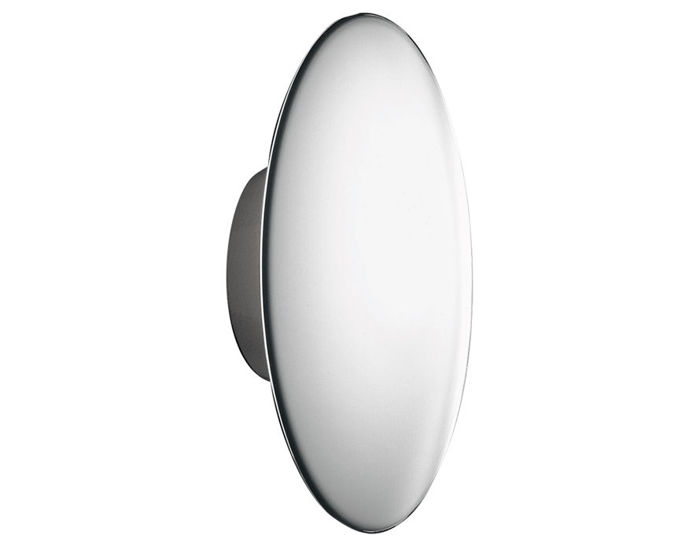 arne jacobsen eklipta wall/ceiling light
Design Arne Jacobsen, 1956
White powder coat, white opal glass
Made in Denmark by Louis Poulsen
AJ Eklipta was designed for the City Hall in Rødovre, Denmark. It was used indoors for staircases and outdoors as a wall fixture. Eklipta was produced in two sizes. When Arne Jacobsen used the fixtures for staircases, he always preferred the largest version. As a true functionalistic master, Arne Jacobsen created AJ Eklipta in a time period when Danish design had an exceptional quality to it, and today this fixture is still used in all kinds of architectural environments worldwide.
Arne Jacobsen was very productive both as an architect and as a designer. His cooperation with Fritz Hansen dates back to 1934. The Ant and Series 7 chairs, produced in 1952, propelled both Jacobsen and Fritz Hansen's names into furniture history. At the end of the 50's Arne Jacobsen designed the Royal Hotel in Copenhagen, which introduced the Egg, the Swan, the Swan sofa and Series 3300 to the design world. Arne Jacobsen was and is an admired and outstanding designer. His furniture and other design work have become a national and international heritage.
AJ Eklipta provides any space with a soft and diffused light. The construction of the glass ensures an evenly lit surface. The tri-layer handblown glass shade has a clear edge, creating a halo of light around the perimeter. Suitable for ceiling and wall applications.
Available in three sizes. dimmable.
small: 4.2" d | 8.7" dia. | requires 1x40W max T-4 IF G9 bulb or includes 10W, 3000K, 479 lumen LED
medium: 4.2" d | 13.7" dia. | requires 1x60W max A-19 IF med. bulb or includes 10W, 3000K, 693 lumen LED
large: 5.5" d | 17.7" dia. | requires 1x100W max A-19 IF med. bulb or includes 24W, 3000K, 693 lumen LED
$664.00 + free shipping
(usually ships in 10-14 days)

Danish architect and designer Arne Emil Jacobsen (1902 – 1971) is remembered for his contribution to architectural Functionalism as well as for the worldwide success he enjoyed with simple but effective chair designs. After a spell as an apprentice mason, Jacobsen was admitted to the Architecture School at the Royal Danish Academy of Fine Arts, where from 1924 to 1927 he studied under Kay Fisker and Kaj Gottlob, both leading architects and designers. After completing architecture school, he first worked at city architect Poul Holsoe's architectural practice. In 1929, in collaboration with Flemming Lassen, he won a Danish Architect's Association competition for designing the "House of the Future" which was built full scale at the subsequent exhibition and helped Jacobsen be recognized as an ultra-modern architect. Later, the Ant and Series 7 chairs, produced in 1952 as a collaboration with Fritz Hansen, propelled both names into furniture history.

Danish lighting manufacturer Louis Poulsen was founded in 1874. Some of the company's best designers were Arne Jacobsen and Poul Henningsen. Henningsen created the well known PH-Lamps line and the iconic "Artichoke" Lamps. For over 70 years Louis Poulsen has been working with visionary designers, thus the Danish company has become one of the worlds most innovative manufacturers of lighting solutions. The revolutionary ideas of designers and and architects such as Verner Panton and Arne Jacobsen could become reality only by profound production know how.
arne jacobsen eklipta wall/ceiling light