verner panton panthella floor lamp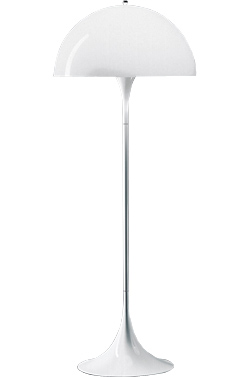 verner panton panthella floor lamp
Design Verner Panton, 1971
White opal acrylic
Made in Denmark by Louis Poulsen
"The main purpose of my work is to provoke people into using their imagination."- Verner Panton
Created in 1971, Verner Panton's Panthella is one of his more popular designs.
The basic light principle aimed to create a lamp in which the base as well as the shade would act as a reflector. The lamps light source is hidden under a milky-white, hemispheric acrylic shade and a white, trumpet-like base contributes to a beautiful distribution of light and a well balanced form.
Several versions were produced during its early days, but Panthella with white shade and base is the only edition in production today. Available in floor and table lamp versions.
As one of the most influential and remarkable designers of the era, Verner Panton has created objects, spaces and art. His original, space age designs have won numerous awards and been exhibited in museums and private collections around the world. His ideaologies and design concepts are apparent and have had great influence on 21st century design.
51.4" h | base: 13.6" dia. | shade: 19.7" dia. | requires 1x150W /A-21 /IF medium bulb
$1,298.00 + free shipping
(usually ships in 10-14 days)

Verner Panton (1926 – 1998) from Denmark created innovative, futuristic designs in vibrant colors with a variety of materials. Though his style was very '1960s and 1970s' he regained popularity at the end of the 20th century. Many of his well-known furniture designs have always remained in production and others have been brought back at a later date. Already an experienced artist, Panton studied architecture at the Royal Danish Academy of Art in Copenhagen, graduating in 1951. During the first two years of his career, 1950–1952, he worked at the architectural practice of Arne Jacobsen, another famous Danish architect and furniture designer. Panton started his own design and architectural office and became well known for his innovative architectural proposals, including a collapsible house (1957), the Cardboard House and the Plastic House (1960). In 1953, Panton converted a Volkswagen bus into a mobile studio and travelled across Europe. He returned to Denmark full of unconventional ideas, one of which evolved into the iconic Heart Cone Chair. Based on his vision of a one-piece, one material cantilever chair from the mid-fifties, Panton, together with Vitra developed the very first cantilever plastic chair. After a long development procedure over more than a decade, the Panton chair, became one of his most famous design and has been in serial-production since 1967.

Danish lighting manufacturer Louis Poulsen was founded in 1874. Some of the company's best designers were Arne Jacobsen and Poul Henningsen. Henningsen created the well known PH-Lamps line and the iconic "Artichoke" Lamps. For over 70 years Louis Poulsen has been working with visionary designers, thus the Danish company has become one of the worlds most innovative manufacturers of lighting solutions. The revolutionary ideas of designers and and architects such as Verner Panton and Arne Jacobsen could become reality only by profound production know how.
verner panton panthella floor lamp