pierre paulin little tulip chair with disc base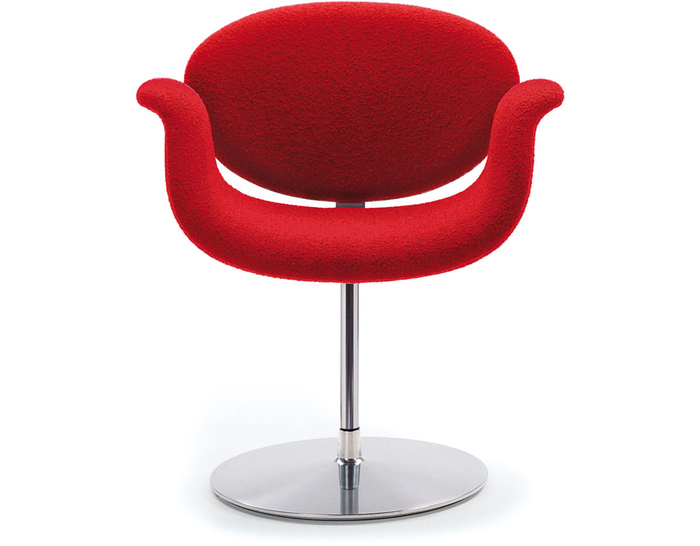 pierre paulin little tulip chair with disc base
Design Pierre Paulin, 1965
Upholstered shell, polished aluminum or powder-coated base, chrome
Made in The Netherlands by Artifort
"A chair should be more than simply functional. It should be friendly, fun and colorful." -Pierre Paulin
As if Pierre Paulin had premonitions of Flower Power, the simple Tulip spreads its half-open petals around the sitter, inviting and warming at the same time. There is a stately Tulip with a high back, which is an eminently comfortable lounge. There is also the Little Tulip. Elegant with its low back, it is perfect for conferences, as a side, dining or desk chair or just a comfortable spot for an after-dinner chat.
As a homage to Pierre Paulin, the Little Tulip with cross-base has now been reintroduced into the Artifort collection. Elegant, light-hearted and beautiful to behold.
Disc base can be specified with or without swivel option. It is offered in polished aluminum with chrome back and tube or base in powder-coat color. Cross-base does not swivel and is offered in polished stainless steel.
30.3" h | 26" w | 22.8" d | seat: 18.1" h | arms: 26.8" h | base: 17.7" dia.
$1,497.00 + free shipping
(please allow 8-12 weeks for this item to be created, shipped and delivered)

Born in Paris and grew up in Laon, Pierre Paulin (b. 1927) acquired a passion for creating from his great uncle, sculptor Freddy Stoll and another uncle, car designer George Paulin. This experience led to studying stone carving and clay modeling at the Ecole Camondo in Paris in the early fifties, where he began designing furniture for Thonet with concern for simplicity and use of sensuous curves. In 1958, he became the designer for Artifort, where he created a series of sculptural chairs with an inner structure of steel tubing, covered in foam and fabric. 1968 to 1972 proved to be significant years for Paulin, from collaborations with Le Mobilier National to many important government commissions, including furniture and interiors for President Pomidou at the Elysee Palace in Paris, and assisting development of the Louvre's Denon wing. He also designed home appliances.

The foundations of Artifort were laid by Jules Wagemans. In 1890, he set up business as an upholsterer in Maastricht. His son, Henricus Wagemans, expanded the company into a furniture factory, which had a showroom in Amsterdam by the end of the 1930's and was already well known nationally. The economic recession of the nineteen thirties forced H. Wagemans & Van Tuinen, as the furniture company was then known, to create a distinctive profile. The emphasis came to lie on functionality, comfort, and quality combined with aesthetically pleasing design and an innovative use of materials. The new brand name became Artifort, derived from the Latin word 'ars' meaning 'art or knowledge', and 'fortis' meaning "strong or powerful."
pierre paulin little tulip chair with disc base