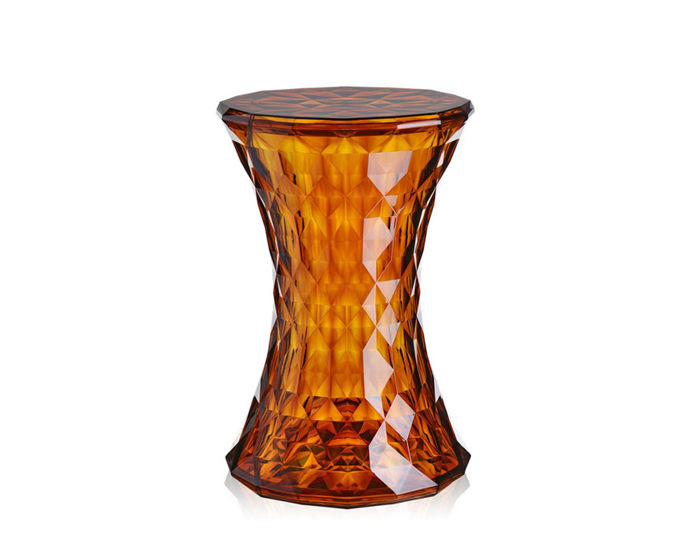 stone stool
Design Marcel Wanders, 2006
Batch-dyed polycarbonate
Made in Italy by Kartell
Stone is a stool with a simple shape but with a very precious appearance. Made with an essential symmetrical linear shape which is reminiscent of an hourglass, its surface is simply extraordinary: it's irregular and comprised of a myriad of geometrical facets which reflect the light and create a striking and unique play of colors, much like a diamond. Due to its jewel-like nature, Stone is offered in the colors of the precious stones and is suitable for indoor/outdoor use.
Marcel Wanders' fame started with the iconic Knotted chair in 1996. He is now designing for renowned manufacturers and his work is part of all major design collections around the world. In 2003 he was selected as one of the most important European leaders of change by Newsweek.
13.3" dia. | 18" h
$355.00 + free shipping
(crystal, smoke & chrome usually ship in 5-7 business days. Please allow 8-12 weeks for all other options)

Marcel Wanders (1963) was born and raised in Boxtel, the Netherlands, and graduated cum laude from the Institute of the Arts Arnhem in 1988, after briefly attending the Design Academy Eindhoven. Wanders first drew international recognition for his 'Knotted Chair' produced by the Dutch design brand Droog, in 1996. The 'Knotted Chair' has since been acquired by the permanent collection of the MoMA. From his studio in Westerhuis, Amsterdam, he designs for manufacturers, such as: Alessi, B&B Italia, Bisazza, Poliform, Moroso, Flos, Boffi, Cappellini, Droog and Moooi.

Kartell's image and its 59 years of history are described through the company's products. The development, the corporate strategies, the attention the company has paid to technology, the project and the design can be appreciated by observing the products Kartell has produced. Kartell's products express the language and the atmosphere of the period in which they were created, but at the same time, they are "contemporary articles," they incorporate many other values and messages and this is why they have become an integral part of our domestic design world.