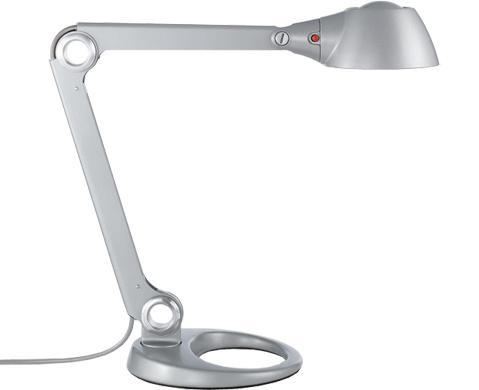 knoll copeland light
Design Stephan Copeland, 2005
Steel arm, aluminum axle, cast iron base, ABS shade
Made by Knoll
Copeland light integrates design dexterity with workplace needs at an affordable price. Efficient use of materials, a pioneering spring mechanism and novel dual-mode head create Copeland's fluid movement and streamlined profile.
A unique "dual-mode" lamp-head that when turned upside-down, emits a smaller pool of light downward and an aesthetic ambient light, when pointed upward, from the same bulb.
Uses a compact fluorescent light, which uses less electricity than a standard incandescent bulb, lasts longer and emits less heat. Also allows for the flexibility to replace that bulb with an incandescent bulb if desired.
Two hinges, resembling spoke-less bicycle wheels, enable a broad range of movement allowing light position where it is most needed, thereby limiting eye strain and general discomfort. The Copeland light is available in two sizes, compact and standard, in black or silver.
compact: 16.25" h | 17.75" w (at 90º angle) | 23.5" h when extended up | 28.75" d when extended out
Includes Energy Star Rated 2700K, 13W E26 base, spiral CFL bulb (equivalent to 60W incandescent), 60W max incandescent "ceiling fan" bulb can also be used. UL listed.
$317.00 + free shipping
(usually ships in 20 business days)

Hans Knoll, the son of a pioneer German furniture manufacturer, founded the Knoll company in New York City in 1938, one year after immigrating from Germany. He hired Florence Schust, a Cranbrook graduate who had worked for Gropius and Breuer, and the two were married in 1946. The next year, they opened a textiles division and showroom that was flanked with some of the worlds leading designers. Knoll would triumph thanks to impressive international contacts, gaining exclusive rights to the works of Ludwig Mies van der Rohe and producing them to their original specifications. This included the 1929 Barcelona Chair. They also commissioned Eero Saarinen to design the now iconic Tulip chair, and hold the rights to Marcel Breuer's seminal Wassily Chair. Artists such as Harry Bertoia, Jens Risom, and Isamu Noguchi would also collaborate with Knoll.