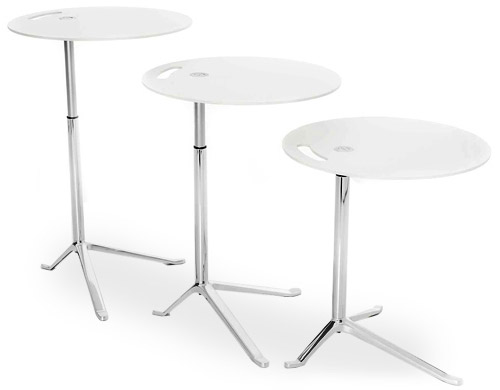 little friend table
Design Kasper Salto, 2005
Steel, aluminum, compact laminate
Made by Fritz Hansen
A small multi-purpose table for laptops or other kinds of use - for the coffee cup, children's school work, books and magazines etc. The top has a cut-out carrier handle and its light weight makes it easy to move around. The top is only 6 mm thick with a base in chromed and polished aluminium. One version has fixed height; the other version is height-adjustable - push down the button and the table moves smoothly up or down.
Trained as a cabinetmaker, Kasper Salto graduated in 1994 as a designer from the Danish Design School. Kasper Salto's work exhibit the influences of the Danish tradition of furniture design which is continued in a well-balanced combination with international industrial design. Salto's main source of inspiration is nature's superior methods of design and color. In spite of his young age, Kasper has already received several design awards including the Danish Knud V. Engelhardt's memorial award in 2005.
The table top is offered in compact laminate in the colors white and black or with a veneer surface in oak or walnut. The base is made of a mirror chromed steel tube and the foot is pressure molded polished aluminum. The base can also be lacquered in colors matching the compact laminate top.
quick-ship options:
- white top & chrome base - adjustable height
- white top & white base - adjustable height
- black top, chrome base - adjustable height
- oak top, chrome base - adjustable height
- oak top, black base - adjustable height
- walnut top, black base - adjustable height
fixed height: 17.7" dia. | 23.6" h
adjustable height: 17.7" dia. | 19.7" - 28.7" h
$1,178.00 + free shipping
(quick-ship options usually ship in 10-14 days. please allow 8-12 weeks for all other options to be created and shipped to your location)

Fritz Hansen was established in 1872 by the visionary cabinetmaker of the same name. Since then, Fritz Hansen has become a natural part of both Danish and international design history. Today, it is an exclusive and international design brand. The history of Fritz Hansen is characterized by stupendous craftsmanship, unique design and an inherent sense of premium quality. Leading architects and furniture designers from all over the world have regularly contributed to the collection with beautifully shaped and functional furniture that seamlessly meet through the use of innovative techniques and new materials. Arne Jacobsen, poul kjaerholm, Piero Lissoni, Kasper Salto and Morten Voss - the stellar string of designers is long and the list of furniture of classic and iconic fame is even longer.