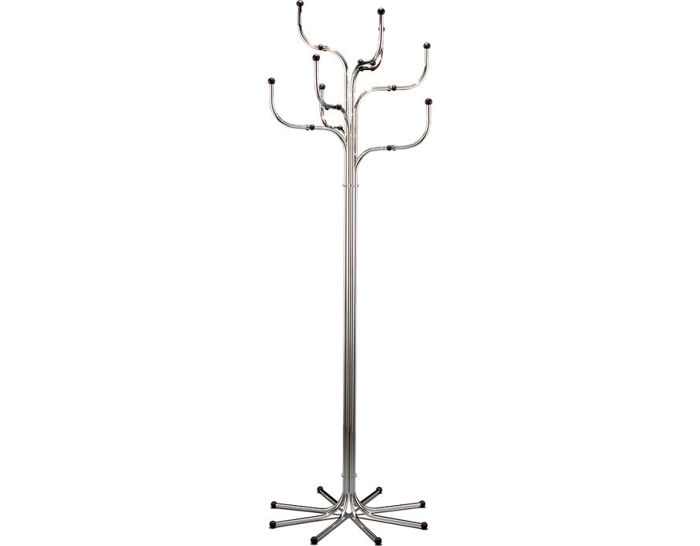 coat tree™ clothes stand
Design Sidse Werner, 1971
Steel tubes, synthetic knobs
Made in Denmark by Fritz Hansen
Designed by Danish designer Sidse Werner in 1971, Coat Tree is practical and easy to position anywhere within the home. Its branching arms enable a large majority of garments to be stored, whether it be clothes, coats, hats, scarfs or umbrellas. The Coat Tree consists of 8 bent steel tubes with molded synthetic rounded knobs. It is offered in chromed steel with black round knobs. The Coat Tree is reported to be able to hold 48 overcoats.
Sidse Werner was a cabinet-maker, a weaver, industrial designer and an architect. She worked with carpets, textiles, glass, lamps, furniture and artifacts in general.
25.6" dia. | 76" h
$1,649.00 + free shipping
(please allow 8-12 weeks for this special product to be created and shipped to your location)

Fritz Hansen was established in 1872 by the visionary cabinetmaker of the same name. Since then, Fritz Hansen has become a natural part of both Danish and international design history. Today, it is an exclusive and international design brand. The history of Fritz Hansen is characterized by stupendous craftsmanship, unique design and an inherent sense of premium quality. Leading architects and furniture designers from all over the world have regularly contributed to the collection with beautifully shaped and functional furniture that seamlessly meet through the use of innovative techniques and new materials. Arne Jacobsen, poul kjaerholm, Piero Lissoni, Kasper Salto and Morten Voss - the stellar string of designers is long and the list of furniture of classic and iconic fame is even longer.