george nelson™ swag leg chair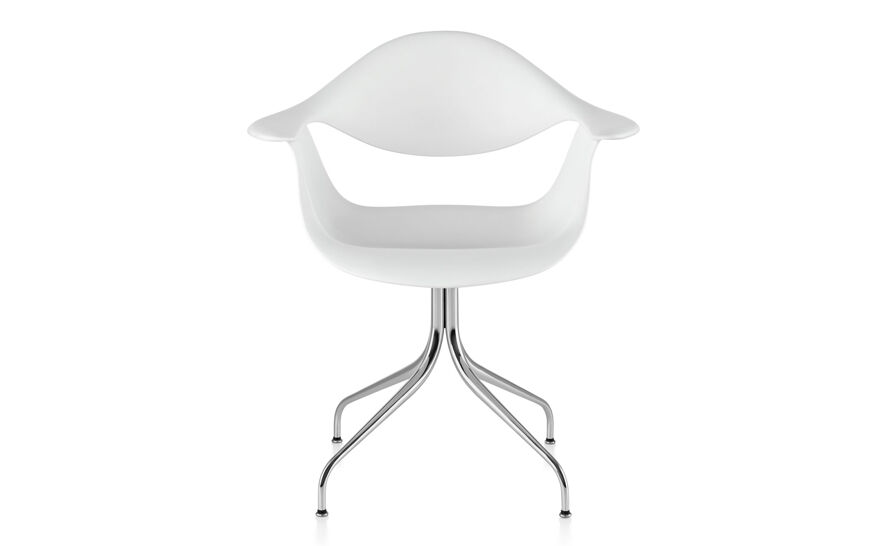 george nelson™ swag leg chair
Design George Nelson, 1958
Polypropylene, chromed steel tubing
Made by Herman Miller
"Total design is nothing more or less than a process of relating everything to everything." -George Nelson
The Swag leg group from George Nelson is back! Each piece displays the distinctively slender and majestic metal legs that give the "swag" appearance to the group. The beauty and unique design of each piece combined with the legendary quality from Herman Miller makes the Swag leg group a pleasant addition.
Herman Miller founder D.J. DePree saw an article in a 1945 Life magazine featuring George Nelson's Storagewall unit, which was causing a sensation in the furniture industry. He was so impressed that he paid a visit to Nelson in New York and convinced him to be his director of design, which spurred Nelson to found his design firm, George Nelson & Associates. The warm personal and professional relationship between Nelson and DePree yielded a stunning range of products, from the playful Marshmallow Sofa to the first L-shaped desk, a precursor of today's workstation.
Separate seat and back. The swag leg chair has a look that's light-scaled and sculpted; the chair shell flexes with the sitter and prevents heat buildup. Features wide, flat armrests so forearms can rest comfortably. Thanks to some inventive production techniques, they use earth-friendly materials while remaining true to George Nelson's original 1958 design intent. The seat and back shells on the armchair are available in white and the legs come in a chrome finish.
28" w | 21.8" d | 31.8" h | seat: 18" h | arm: 26.5" h
$705.00 + free shipping
(usually ships in 25-40 business days)

George Nelson (1908–1986) was an American industrial designer, and one of the founders of American Modernism. While Director of Design for the Herman Miller furniture company, both Nelson, and his design studio, George Nelson Associates, Inc., designed much of the 20th century's most iconic modernist furniture. George Nelson attended Yale University, not originally intending to become an architect. He happened upon the architecture school while ducking into the building to get out of the rain, and was impressed by an exhibition inside. He graduated with a degree in architecture in 1928. During his final year at Yale, Nelson was hired by the architecture firm Adams and Prentice as a drafter.

Herman Miller was a West Michigan businessman who helped his son-in-law, D.J. De Pree, buy the Michigan Star Furniture Company in 1923. De Pree had been working at the company, which opened in 1905, since he was hired in 1909 as a clerk. De Pree knew his father-in-law was a man of integrity, so he decided to rename the company after him. By the middle of the 20th century, the name Herman Miller had become synonymous with modern furniture. Working with legendary designers George Nelson and Charles and Ray Eames, the company produced pieces that would become classics of industrial design.
george nelson™ swag leg chair