series 11 2 door/2 drawer console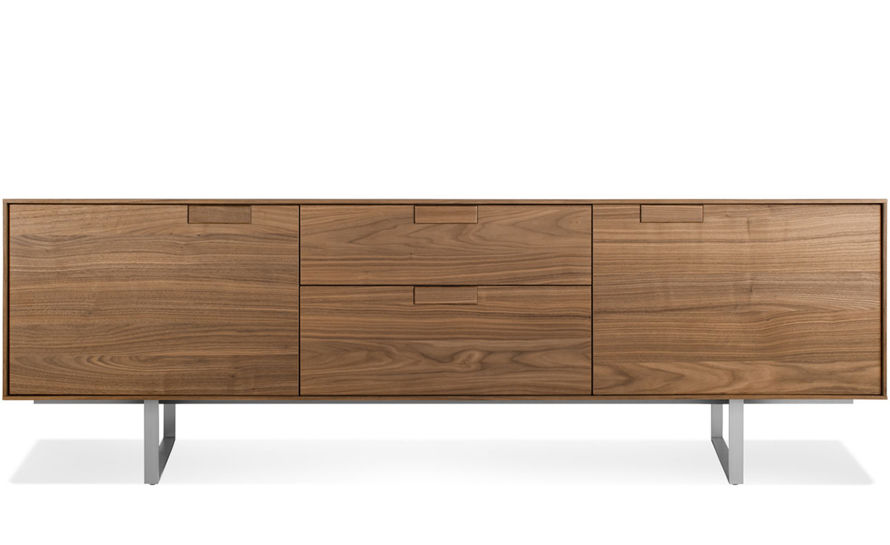 series 11 2 door/2 drawer console
Design Blu Dot, 2006
Ash or walnut veneer, stainless steel
Made by Blu Dot
For you Hi-Fi, Lo-Fi, Wi-Fi or No-Fi. The Series 11 collection is an elegant and refined approach with thin edges and thoughtful proportions. Subtle and inventive door pulls smoothly open and close drawers softly. Case rests on an alloy-plated stainless steel base. Series Eleven. When ten just isn't quite enough.
- Ash, walnut, or white oak veneer over constructed solid wood
- Brushed alloy-plated stainless steel or powder-coated base
- Adjustable interior shelf
- Subtle integrated solid wood drawer pulls
- Drawers and doors have self-closing hardware for smooth & silent closure
- Cord management escapes
- Unfinished wood back
- This product is heavy. Grab a buddy or two when assembling or moving
- Some assembly required
84" w | 27" h | 21" d
Assembly required
$2,895.00 + plus shipping (curbside delivery in the continental US)
(usually ships in 5-10 business days)

Blu Dot was formed in 1997 when John Christakos, Maurice Blanks, and Charlie Lazor commiserated about the lack of high-quality, affordable home furnishings that also appealed to their modernist aesthetics. They began as college friends trying to fill a void in the marketplace and have endured with highly-original furniture and products that join whimsy with practicality. The company thrives on collaboration and prides itself on having full control, taking care of each step in-house, from design, to manufacturing, to retail. Blu Dot is based in Minneapolis, and has flagship stores in LA and SoHo New York that display over 100 items from the collection.
series 11 2 door/2 drawer console