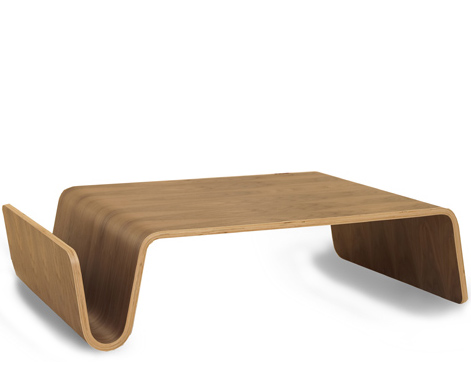 scando table
Design Eric Pfeiffer, 2005
Molded plywood
Made by Offi
The design of the Scando Table was inspired by both Japanese living and long hours of observing how children relate to the floor in their daily activities. Designer Eric Pfeiffer created a table that engages children and accommodates their diverse activities, while addressing the needs of adults who want furniture that is elegant, expertly crafted, and multi-functional.
Pfeiffer has created an heirloom quality table accommodating the wants and needs of both the young and young at heart. For the very young it's a low, soft, and inviting form that provides an aid to help in the process of standing up and negotiating furniture for the first time. The low casual stature of the table gives older kids an inviting space to gather around. For adults this rational form is an elegant and sensuous table that provides an effortless solution for smaller living spaces. In addition, the useful storage pouch creates a convenient place to keep those magazines and books close at hand. A table the whole family can love!
Available in birch or walnut veneer.
11" h | 28" w | 43.5" L
$899.00 + free shipping
(usually ships in 3-5 business days)

Eric Pfeiffer sought to explore "the design of everyday objects in our lives" when he opened his own Pfeiffer Lab in 2005. He directs the company with his regard for simplicity of form to create useful and elegant solutions for everyday living, while revealing the core beauty of the product's source material. Pfeiffer served as a prolific VP of Design at Offi from 2000 through 2004, coordinating product design, innovating the company, and designing most of the products that were introduced. He has been recognized with several design awards, including the 2003 ID Magazine award for the Offi Perch Lounge. Also while at Offi, Eric co-authored a book called "Bent Ply: the Art of Plywood Furniture", which features the step-by-step making of the Offi Wave Desk.

OFFI & Company was launched in 1997 to create simple yet beautiful furnishings for the modern urban lifestyle. Their products address comfort and multi-functionality. Much of Offi's award-winning work can be credited to their independent designers, such as Scott Wilson, Karim Rashid,and Eric Pfeiffer. In the short time the company has been around, they have debuted more than 100 new products. Some pieces that the company has recently began to offer include work surfaces, lounge seating, storage solutions, organization accessories, and a kids' collection.