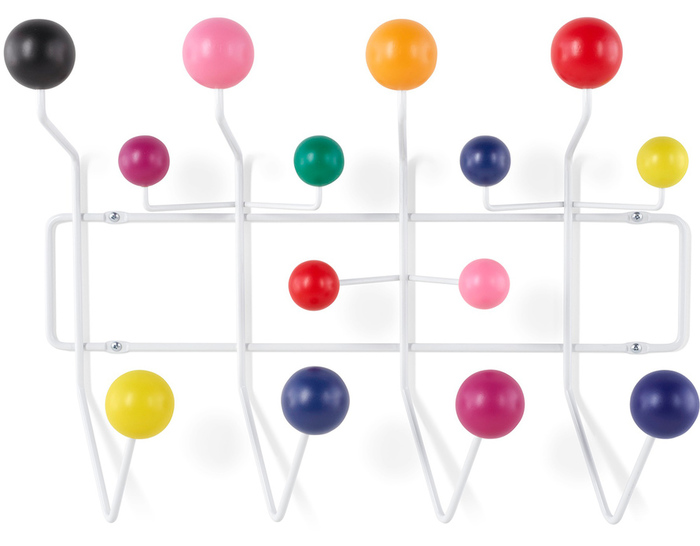 eames hang-it-all
Design Charles & Ray Eames, 1953
Steel rod frame, solid wood spheres
Made by Herman Miller®
"Design is a plan for arranging elements in such a way as best to accomplish a particular purpose."
-Charles Eames
Charles and Ray Eames brought a sense of play to all their work. Throughout their careers, they designed a variety of whimsical toys and furniture for children, including this 1953 Hang It All®, for Tigrett Enterprise's Playhouse Division. To achieve the piece's spidery base, Charles and Ray used the same mass-production technique for welding wires that they developed for their low table bases and wire chairs. More than just a conversation piece, the Hang-It-All holds nearly anything that slips over its colorful hooks.
With a grand sense of adventure, Charles and Ray Eames turned their curiosity and boundless enthusiasm into creations that established them as a truly great husband-and-wife design team. Their unique synergy led to a whole new look in furniture. Lean and modern. Playful and functional. Sleek, sophisticated, and beautifully simple. That was and is the "Eames look."
The Hang-it-all's welded steel wire frame has a white, dark blue or black powder-coat finish and attaches directly to walls or other surfaces. The hooks are made from 14 solid wooden spheres and offered in all black, all white, natural maple, walnut or multi-colored. Attachment hardware included. Each sphere can hold up to 10 lbs. with a max load of 50 lbs. on the whole unit.
19.75" w | 6.5" d | 14.75" h
$196.00 + free shipping
(in stock and ready to ship)

Husband and wife team Charles (1907-1978) and Ray (1912-1988) Eames played a major role in the world of modern architecture and furniture, as well as working in industrial and graphic design, fine art, and film. Charles completed two years of study at Washington University in St. Louis. With his design and life partner Ray, he designed prize-winning furniture that expanded upon the wood molding techniques of Alvar Aalto. Ray-Bernice Alexandra Kaiser Eames began as an abstract expressionist painter, having graduated from Bennett Women's College in Millbrook, NY and later studying under Hans Hoffman while living in New York City. She co-founded the American Abstract Artists and has a painting in the Whitney museum's permanent collection.

Herman Miller was a West Michigan businessman who helped his son-in-law, D.J. De Pree, buy the Michigan Star Furniture Company in 1923. De Pree had been working at the company, which opened in 1905, since he was hired in 1909 as a clerk. De Pree knew his father-in-law was a man of integrity, so he decided to rename the company after him. By the middle of the 20th century, the name Herman Miller had become synonymous with modern furniture. Working with legendary designers George Nelson and Charles and Ray Eames, the company produced pieces that would become classics of industrial design.