eames storage unit 230 w/doors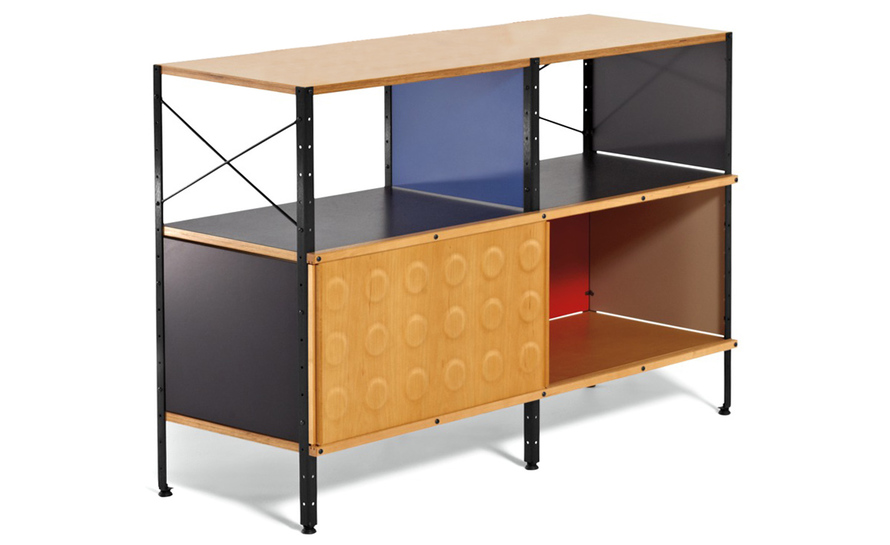 eames storage unit 230 w/doors
Design Charles & Ray Eames, 1950
Zinc-coated steel, plywood
Made by Herman Miller
"Recognizing the need is the primary condition for design."
-Charles Eames
Eames Storage Units are emblematic of the grace and whimsy Charles and Ray Eames used in designing home furnishing solutions.
A result of work they had done for a 1949 exhibition at the Detroit Institute of Arts, Eames Desk Units and Storage Units reveal the "machine aesthetic" and Japanese influences important to the Eameses at the time. Long before "modularity" and "high tech" entered the language, Charles and Ray combined standardized parts in many ways to create practical furnishings that suit a variety of uses at home and the office.
With a grand sense of adventure, Charles and Ray Eames turned their curiosity and boundless enthusiasm into creations that established them as a truly great husband-and-wife design team. Their unique synergy led to a whole new look in furniture. Lean and modern. Playful and functional. Sleek, sophisticated, and beautifully simple. That was and is the "Eames look."
Eames Storage Units are composed of cases, cabinets, and drawers in five configurations and four sizes. Uprights, cross-supports, and perforated panels are either zinc-coated or black steel; cabinet fronts are dimpled plywood; drawer fronts and shelves are molded plywood; case side and back panels are painted hardwood. Available in your choice of two color schemes: neutrals or brights.
2 units high, 2 units wide with sliding doors.
ESU 230: 47.5" w | 16" d | 32.5" h
$1,756.00 + free shipping
(usually ships in 21-40 business days)

Husband and wife team Charles (1907-1978) and Ray (1912-1988) Eames played a major role in the world of modern architecture and furniture, as well as working in industrial and graphic design, fine art, and film. Charles completed two years of study at Washington University in St. Louis. With his design and life partner Ray, he designed prize-winning furniture that expanded upon the wood molding techniques of Alvar Aalto. Ray-Bernice Alexandra Kaiser Eames began as an abstract expressionist painter, having graduated from Bennett Women's College in Millbrook, NY and later studying under Hans Hoffman while living in New York City. She co-founded the American Abstract Artists and has a painting in the Whitney museum's permanent collection.

Herman Miller was a West Michigan businessman who helped his son-in-law, D.J. De Pree, buy the Michigan Star Furniture Company in 1923. De Pree had been working at the company, which opened in 1905, since he was hired in 1909 as a clerk. De Pree knew his father-in-law was a man of integrity, so he decided to rename the company after him. By the middle of the 20th century, the name Herman Miller had become synonymous with modern furniture. Working with legendary designers George Nelson and Charles and Ray Eames, the company produced pieces that would become classics of industrial design.
eames storage unit 230 w/doors