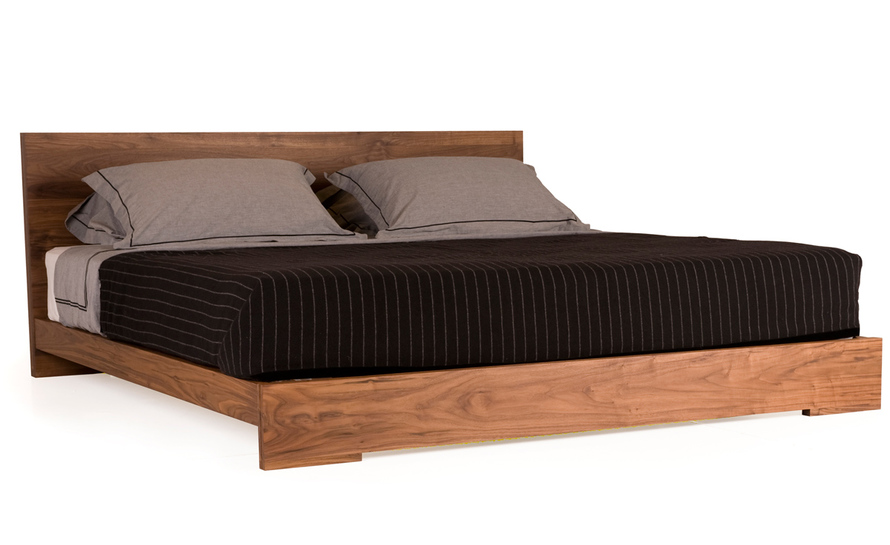 011 atlantico bed
Design Atlantico
American white oak or American black walnut
Made in Portugal by De La Espada
A straightforward approach to bed design, with all the essential planar elements, enhanced by the beauty of solid wood. The headboard features the intriguing grain patterns created both by the horizontal lamination of planks and the varied grain of the timber.
Atlantico is a brand of modern furniture created by the people behind De La Espada. Atlantico focuses on beautiful hardwood, elegant joinery and natural finishes. Atlantico rejects the idea of disposable furniture, ensuring that every piece is built to stand the test of time.
As part of Atlantico's commitment to the environment, all timber is sourced from sustainable forests, waste created during manufacture is minimized, durability and aesthetic relevance is maximized, and every piece may be easily recycled at the end of its lifecycle.
The 011 bed is offered in walnut, oak or ash in a range of finishes. Mattress & bedding not included. Assembly required.
Queen Size: 62" w | 83.12" d | 31.62" h
King Size: 78" w | 83.12" d | 31.62" h
California King: 74" w | 87.12" d | 31.62" h
Bed Platform is 8 inches from floor
$5,045.00 + free shipping (curbside delivery in the continental US)
(please allow 12-16 weeks for delivery)

De La Espada is a groundbreaking design management firm and leading modern woodworker with a dedicated factory in Portugal. Highly skilled craftspeople combine noble materials, traditional joinery, handcraft and advanced technology to realize each design to the highest standard. De La Espada puts the author at the forefront and values the modern artisan. They partner with designers who art direct, curate and design their own product lines, and support them through manufacture and distribution.