knitted stool
from GAN -
Sale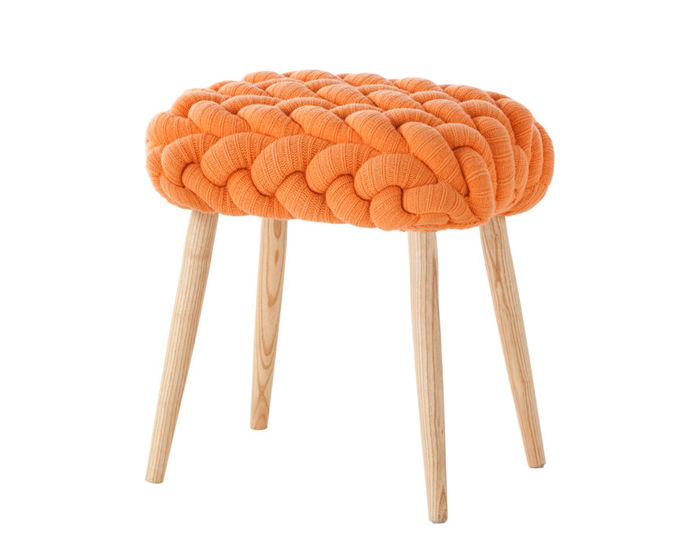 knitted stool
Design Claire Anne O'Brien
100% new wool, ash wood
Made by GAN
The Knitted Stools series, a rectangular seat with a volumetric handmade 100% virgin wool upholstery. Its three-dimensional braided design gives the sensation of looking at the fabric through a magnifying glass. The legs are made of ash wood with a matte finish.
Designer Claire Anne O'Brien uses the hand-knitting technique to create the hypertextured and cushioned seats in her Knitted Stools series, made using different types of stitching and threads. These stools are one of those surprising things that had never been done before, a kind of guerrilla knitting action.
grey & blue stool: 14" dia. | 20" h | 11 lbs.
orange stool: 18" w | 14" d | 22" h | 14.2 lbs.
$568.00 + free shipping
(usually ships in 10-12 weeks)

GAN was born when José Gandía-Blasco reinvented his family business in the 1980s betting strongly on design and incorporating the world of rugs into their offerings. In 2004 he partnered with his friend Mapi Millet, with whom he shares close tastes and sensibilities, to reshape the brand. GAN uses a production system that preserves tradition while renewing craftsmanship allowing artisan practices to evolve and expand. GAN rugs are made by hand in India, slowly, piece by piece, by expert craftsman using some of the best natural fibers available - cotton, jute, wool - as well as recycled fibers.