parquet hexagon rug
from GAN -
Sale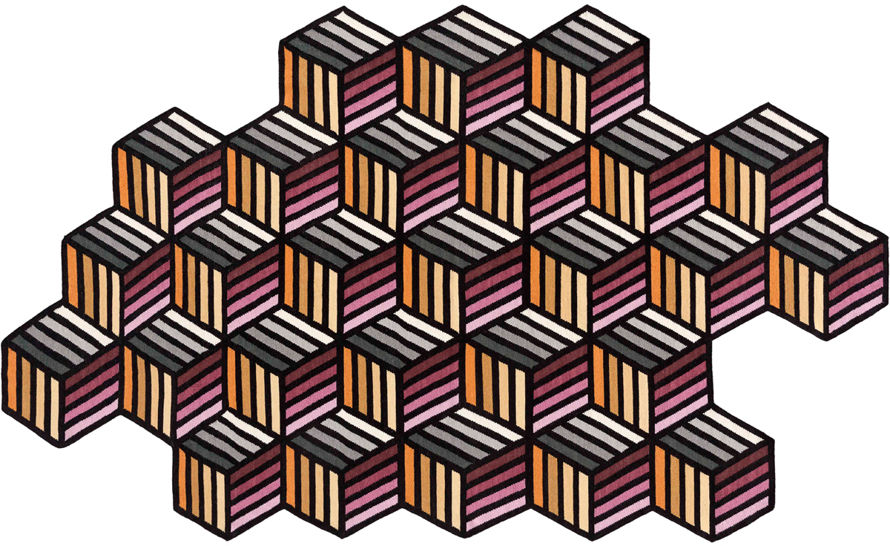 parquet hexagon rug
Design Front Design
100% wool
Made by GAN
Hexagon is one of the three rugs that make up the Parquet collection, a set of three kilims inspired by old parquet flooring patterns, and their varied dispositions and geometry. Its color palette has been carefully selected by its creators, the Swedish design studio Front, to make the design acquire depth and three-dimensionality.
The kilim is an artisan method of rug making in which the weft is tightly woven on a manual loom, using only threads and no knotting. The result is a light fabric with no pile, similar to that of upholstery. It is a technique that offers great flexibility, a feature that GAN explores thoroughly to create high-impact details.
This model is a combination of rectangles, diamonds, squares and hexagons which, depending on your perspective, take on the appearance cubes and even steps. Its irregular format allows for multiple configurations with more than one rug. Available in two size options.
Anti-slip underlays are an easy to install solution to improve the care of your rugs. They prevent friction and wear and tear, prolonging the rugs useful life and keeping them well ventilated by preventing direct contact with the floor. Custom sizes are also available by calling the hive showroom.
5' w | 6'8" L | .24" h | 6.61 lbs.
6'2" w | 10' L | .24" h | 13.23 lbs.
$1,544.00 + free shipping
(usually ships in 10-15 days if in stock. Otherwise, please allow 10-12 weeks for delivery)

GAN was born when José Gandía-Blasco reinvented his family business in the 1980s betting strongly on design and incorporating the world of rugs into their offerings. In 2004 he partnered with his friend Mapi Millet, with whom he shares close tastes and sensibilities, to reshape the brand. GAN uses a production system that preserves tradition while renewing craftsmanship allowing artisan practices to evolve and expand. GAN rugs are made by hand in India, slowly, piece by piece, by expert craftsman using some of the best natural fibers available - cotton, jute, wool - as well as recycled fibers.