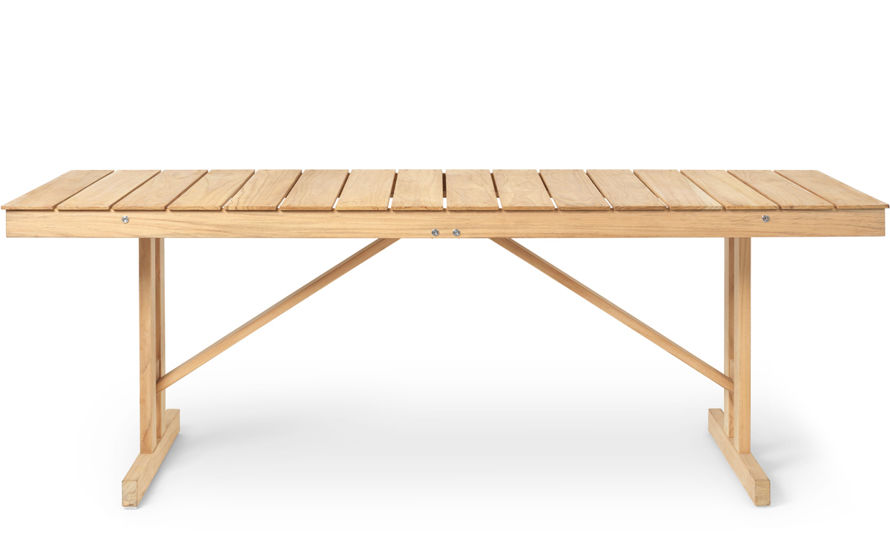 bm1771 outdoor table
Design Borge Mogensen, 1971
Solid untreated teak wood, stainless steel fittings
Made by Carl Hansen & son
Referencing the simplicity of Shaker furniture, with clean lines and functional details, Børge Mogensen's foldable Outdoor Table was designed back in 1971.
Rediscovered by Carl Hansen & Søn, the iconic designer's outdoor table and bench set is reworked to modern sensibilities, yet remains true to the spirit of its original design. Set on a sturdy but elegant wooden frame, graphic slats create a durable and decorative tabletop perfect for impromptu outdoor gatherings. Crafted in untreated FSC-certified teak, the durable design withstands wear and weather conditions to age gracefully over time, acquiring an elegant silver-grey hue. Pair with the corresponding BM1871 bench to create a set that neatly stows away when not in use.
As wood is a natural product, variations in color and pigmentation will occur. Wooden furniture will also change appearance over time as it is affected by the environment in which it is placed.
76.6" w | 30.7" d | 28.3" h | base: 58.7" w | 27.4" d
$1,674.50 + free shipping
(Quick-ship options usually ships in 2-4 weeks. Please allow 8-12 weeks for all other options)

Borge Mogensen (1914-1972) was one of the pioneers that created the foundation for the Danish Design as a culture of furniture design. He was one of the most influential designers in shaping Danish Modern design and present day Fredericia's founding designer from 1955 until his death in 1972. His life-long ambition was to create durable and useful furniture that would enrich people's everyday lives, and he designed functional furniture for all parts of the home and society. Mogensen's ideal was to create furniture with a restrained aesthetic. He believed that furniture should create a sense of tranquillity and have a modest appearance that encourages people to live their lives unpretentiously.

A workshop in Odense, Denmark in 1908, was the birthplace of the Carl Hansen company. With a fast reputation for quality work, Carl Hansen confidently took on large projects like dining room sets and bedroom suites. However, Hansen eventually learned to capitalize on scaled-back versions of his popular sellers, realizing that their strongest asset was its hand craftsmanship and rationality. Carl Hansen invited Hans Wegner to create designs in 1949, launching a mutually beneficial relationship bringing success to the company and exposure to the young Wegner. Wegner was still relatively unknown, but soon gained wide acclaim that continues to today.