solis drum flush ceiling lamp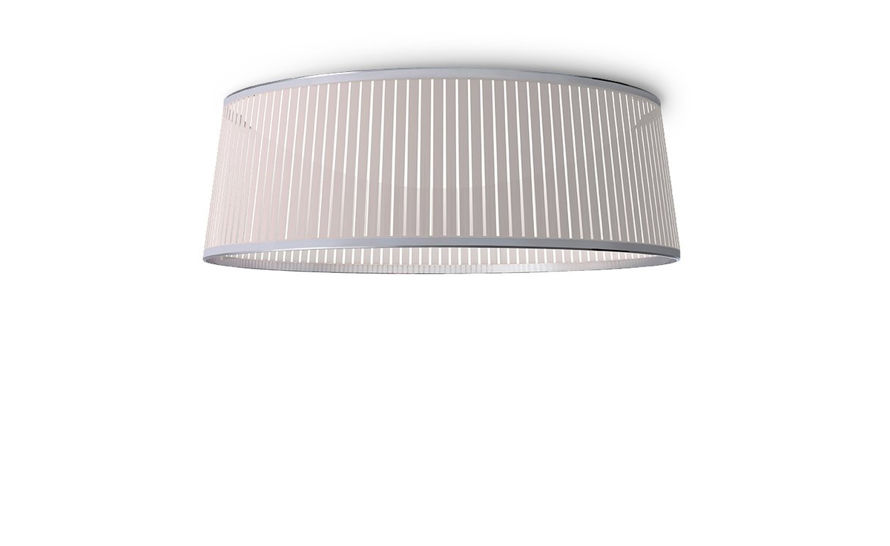 solis drum flush ceiling lamp
Design Carmine Deganello, 2016
Polyester fabric shade, acrylic diffuser, steel & aluminum
Made in USA by Pablo Designs
The Solis Drum Flush is the latest addition to the elegant Solis Family. Featuring a uniquely engaging blend of light and shadow, Solis Drum Flush is made of laser cut polyester fabric combined with a stainless steel top and bottom ring construction that allows the shade to hang under tension. Solis Drum Flush also employs a stunning LED dome diffusor that spans across the full diameter of the top ring, radiating light down and sideways to cast shimmering warm patterns onto the space that surrounds it. The effect is a sense of weightlessness that invites a new kind of relationship with the light source. Perfect over a dinning table, an entryway or in large groupings.
Solis Drum Flush is offered with a soft and lightweight polyester fabric held in tension between two polished rings, providing both direct and diffused light to enhance any environment. It is offered in your choice of two sizes and three colors. Solis Drum Flush features full-range dimming with a high powered LED light source. Ships flat-packed. Requires hard-wire installation to junction box.
solis drum flush 24: 24" dia. | 10" h | .5" h
includes 35W, 2700K, 2500 lumen (71 lumens/watt), 85CRI | assembly required
solis drum flush 36: 36" dia. | 12" h | .5" h
includes 80W, 2700K, 5600 lumen (70 lumens/watt), 85CRI | assembly required
$850.00 + free shipping
(usually ships in 5-7 business days)

With the creation of his first product in 1993, Pablo established a powerful and generative design philosophy. Since then, his core principles have informed the development of every light in the studio's 20-year history. These products continue to move with culture while withstanding trends in design - and each one carries the underlying uniqueness that is distinctly "Pablo."
solis drum flush ceiling lamp