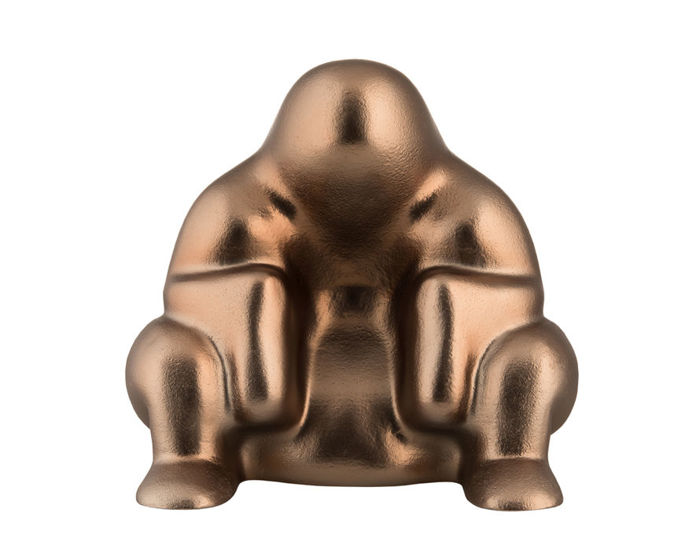 dede doorstop
Design Philippe Starck, 2018
Thermoplastic resin, PVD coating
Made by Alessi
Dede is a perfect example of Philippe Starck's poetry. An expressive and functional object: a doorstop, whose evocative form becomes a familiar presence during the day.
"Dede is waiting. But what for? Life? Love? In the meantime, he opens and closes doors. Like me." With these words Philippe Starck describes the Dede doorstop, an object with an extraordinarily poetic yet functional shape. Originally presented in 1996 and produced in die-cast aluminum, in 2019 Dede is proposed in a new version in brightly colored plastic, a decidedly Pop reinterpretation desired by Starck himself.
Born in Paris in 1949, he is one of the most original and creative designers of our time. He has obtained many important acknowledgements such as the Grand Prix National de la Création industrielle and the Honor Award of the American Institute of Architects, he considers himself as "a Japanese architect, an American art director, a German industrial designer, a French artistic director, an Italian furniture designer".
7" w | 6.5" d | 7" h
$90.00 + free shipping
(in-stock items usually ship in 1-2 business days. Otherwise, please allow approximately 3 weeks for delivery.)

Paris-born Philippe Patrick Starck (b. 1949) has a wide range of design, but is very well known for his consumer goods and interiors. He was educated in Paris at the École Camondo and founded his first design firm, which specialized in inflatable objects, in 1968. The next year, he became art director of his firm along with Pierre Cardin. He has worked both independently as an interior designer and as a product designer since 1975. After designing the private apartment interiors for French President François Mitterrand in 1982, his career began to climb significantly. In 1986 he joined Domus Academy Department of Design as an associate lecturer. Two of Starck's famous designs include stylized toothbrushes (1989) and a sleek juicer dubbed the Juicy Salif created for Alessi in 1990. The Juicy Salif has become an affordable and popular cult item.

Alessi was founded in 1921 by Giovanni Alessi to produce crafted metal products for eating and drinking. In 1935, Carlo Alessi, son of Giovanni, was named chief designer. In 1945, he ascended to chief executive and designed the coffee service Bombe, an industrial piece manufactured in four sizes. That same year Carlo's younger brother, Ettore Alessi, joined the company as a technician. By the 1980s, Alberto Alessi took over the management of Alessi and launched the Alessi company into the design decade through collaborations with designers such as Philippe Starck and his playful three-legged Juicy Salif citrus squeezer.