magis transit folding trolley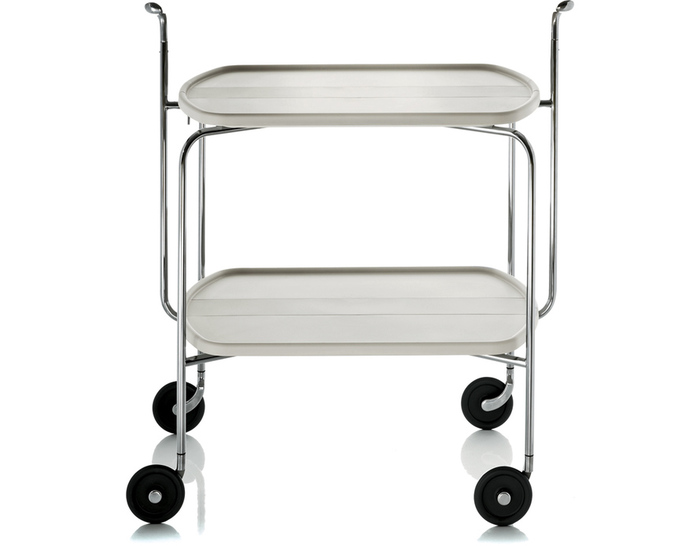 magis transit folding trolley
Design David Mellor, 1998
Injection-molded plastic, chromed steel frame
Made in Italy by Magis
A smart, smooth-running piece of mobile furniture for modern urban living. The trolley folds flat easily for storage. Each section of the shelves can also be folded down accordingly. The chromed frame with raised handles and the contrasting colored shelves makes the Trolly a perfect fit for any space.
David Mellor is one of the best known designers in the UK. He is unusual in combining the activities of designer, manufacturer and retailer. His great professional expertise is in metalwork with designs ranging from street lighting and the UK national traffic signal system to one-off pieces of hand made silver and stainless steel cutlery he manufactures in his own purpose built factory.
David Mellor's designs continue to win numerous international awards and in 1996 he received the accolade of a retrospective at the Design Museum, London. In 2001 he was awarded the CBE by Her Majesty Queen Elizabeth II.
Transit Trolley is available in white.
29.5" L | 17.7" w | 35" h
$699.00 + free shipping
(usually ships in 8-9 weeks)

The Magis company was founded in 1976 and had their first success in 1984 with Stepladder that was influential and crossed over into the designer furniture market from the hardware stores. They had two more huge successes in 1994 with Jasper Morrisons Bottleand the Lyra stool from the Italia Group, their bestseller. Two years later, the Bombo stool designed by Stefano Giovannoni would gain enormous success and cultivate an imitable style. Once the company gained momentum, they never slowed and would go on to produce Jasper Morrisons technologically advanced Air-Chair Michael Youngs Dog House Konstantin Grcics Chair One the Me Too line of childrens objects and furniture, and the Striped family from the Bouroullec brothers.
magis transit folding trolley